AXA story
Passionate, honest and idiosyncratic…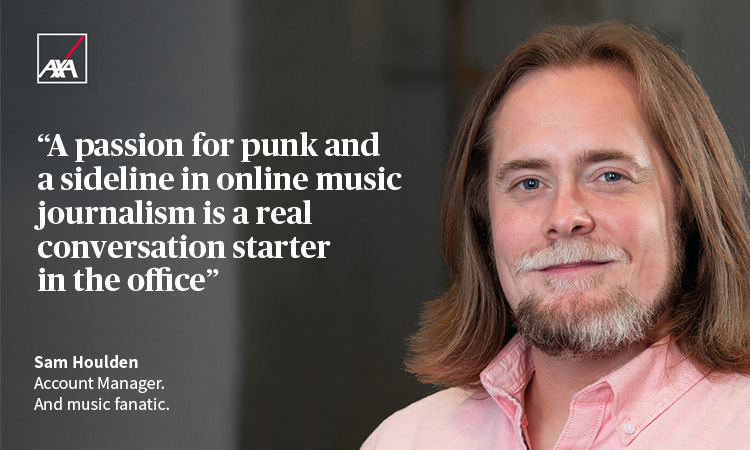 Sam Houlden – Account Manager
Sam has worked for AXA Insurance for the past 11 ½ years. Most recently as an ePartners Account Manager working from home in Reading and aligned to the Glasgow office, where the rest of the ePartner team are based. But growing up with a Dad who ran a small chain of successful independent record shops Sam's true passion from an early age was music. As a teenager in the early 1990s he developed an interest in the South Californian Punk music scene, bought a guitar, and dreamed of a career 'on the road'.
As it turns out, this road led to a career in…insurance. And whilst his long hair and beard did not conform to the traditional stereotype of people in insurance being 'middle aged, bald men walking around in suits' his AXA bosses were enlightened enough to see beyond that to the work he was doing. These days the young, tech-led type of clients Sam deals with would be more surprised if he didn't look as he does.
AXA employees like Sam are helping to change the perception of insurance and the people who work in it. He's good at what he does and has been able to build his own brand of pragmatism, honesty and straightforwardness. He's also tapped into innovative solutions via his engagement with the ever-changing spectrum of AXA customers and discovering all the different approaches other companies have to similar challenges.
As for his passion for music, that hasn't gone away. A few years ago Sam was approached by a Philadelphia-based online music magazine - Punknews.org - to be one of their UK music journalists. So now he regularly reviews gigs and albums. It allows him to remain part of a music scene he loves and also satisfies a 'creative itch that needs to be scratched'.
Interested in finding out more about life at AXA? Read more of our #LifeAtAXA people stories here.