AXA story
Parul Kaul-Green: Start a movement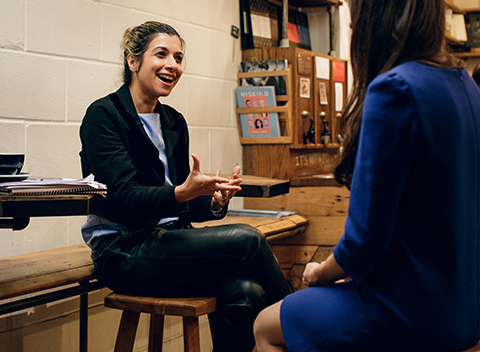 Parul, former head of Mergers and Acquisitions and Innovation, tells us how her new role as Head of Group Innovation means she can make even more impact.
Challenging, disruptive, inventive: we're helping small start-ups start something big. I love helping entrepreneurs find their voice and reach their potential: I've been in their position as a founder member of small tech start-up in mobile messaging, with its challenges, excitement and frustrations and I want to realise their ambitions.
My dream is that insurance is seen as an industry for social good that provides for users' needs at a time of difficulty. To achieve that we need to make sure we're doing everything we can to better understand how existing technologies which have exponentially improved access, storage and compute power can make the lives of our customers better. In my role, I sit in local investment committee of AXA strategic ventures (UK), so I get to hear from a whole host of very different start-ups with brilliant ideas on how to reimagine and improve insurance. I introduced Goji- a peer to peer lending aggregator which is working to help investors and small businesses understand crowd-sourced lending, to AXA Strategic Ventures. I also worked with the team at AXA PPP to acquire Aid Call, a call centre that helps and supports the elderly to be more independent and stay at home, a transaction for which we are now finalists for Transaction of the year by M&A Advisor (an organisation that recognises outstanding achievements in the industry).
Outside of AXA, I volunteer and mentor for Sadiq Khan, the Mayor of London's International Business Partnering programme. I have recently supported many female founders understand the complex world of financing and fund raising – and I'm hugely passionate about this and other opportunities for women in business. I'm determined to create a fairer world for my daughter, so that she doesn't need to go through what women in business go through today. This work ties back into our strategic schedule at AXA, but it's also generally about supporting the whole of the UK start-up ecosystem. That's why I am a finalist for Corporate Development Professional of the year in 2017 – for having that impact on the industry as a whole – which is a huge honour.
The most crucial factor in my professional development is purposefulness that what I do must make the world fairer and more equal. Having courage of my convictions has enabled me to progress to where I am, and that would be my advice to anyone who wants to make a difference.