AXA story
The office jukebox and a fundraising machine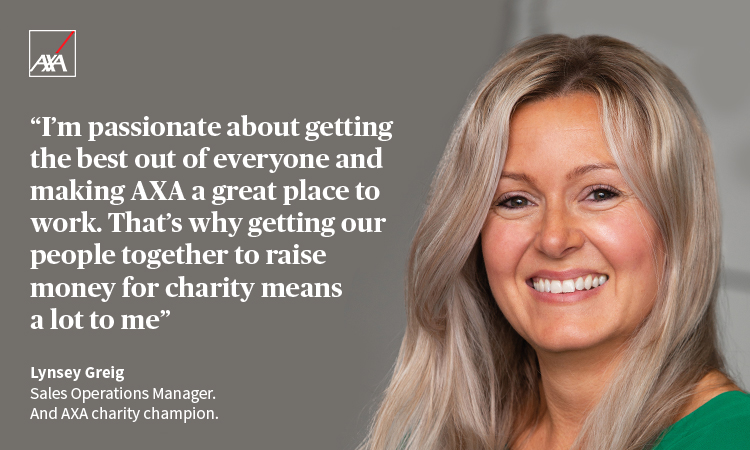 Lynsey has worked for AXA Insurance for 17 years. She currently works as a Sales Operations Manager in Glasgow.
She loves people and her passion is all about getting the best out of everyone and making AXA a great place to work! A story from her high school days of her dressing as a clown during registration (and temporarily being suspended as a result) reflects her attitude to life.
She embraces the AXA values of Customer First, Courage, One AXA and Integrity and breaking down of the old hierarchical layers of management, but admits she would still love to see 'Employee first' as one of our values..
Lynsey uses her infectious enthusiasm, joy for life and sense of humour to draw out the best in her colleagues. She treats everyone as an individual, recognising their different strengths but also encouraging them to take ownership of their own development and writing their own future. If that includes breaking some rules (within reason) or making some mistakes then so much the better! She's helping change the culture through her local Employee Engagement Programme: 'Think and Act - we say and we do.' Helping everyone have a voice and working together to create the working environment we want. She strongly believes that if we look after our people, our people with therefore look after our customers!
She also chairs her local AXA CSR (Vision) team helping raise money for charity and organise and drive employee engagement events. Supporting AXA's charity partners became even more personal to Lynsey when, only months after it was announced ARUK would be a charity partner, her dad was diagnosed with Alzheimer's. All this energy and passion for life and entertaining doesn't stop when work finishes as Lynsey is the lead singer in a band with regular rehearsals often ending at midnight.
As for our office juke box, if Lynsey is not singing she's whistling, her colleagues in Glasgow often wish she would leave her signing to her rehearsals and gigs!
Interested in finding out more about life at AXA? Read more of our #LifeAtAXA people stories here.