AXA story
Occupational Health – a worthwhile occupation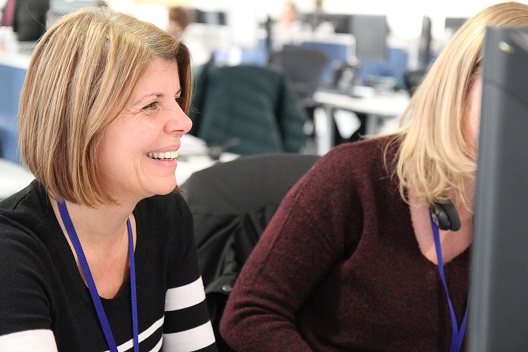 Liz Busby leads a team of Occupational Health Advisors, working in Scotland, London and remotely across the country. Their specialisms vary, including occupational therapists, technicians or qualified nurses. In this post, she describes her vital – and changing – profession.
A better work environment
I've been at AXA for just over ten years. That's because this is a great organisation, and Occupational Health itself is a fascinating field – one that's constantly changing. The way people work has evolved over the last decade, and the service we offer has transformed with it. We specialise in improving people's work environment – so it's not surprising that the atmosphere at AXA is especially good. The better we feel, the better our clients feel, and vice versa. We work very closely together: that applies to our clients and us, our team and AXA.
Occupational Health: in a nutshell
Because we spend so much of our lives at work, it's really important that we make the workplace a safe place to be. That's what Occupational Health is all about: safeguarding people from the moment they step into the office. I don't want to overstate things, but we really are making people's lives better, even if they don't notice it. You never know – we might even have saved a few from serious, or even life-threatening, accidents.
Possibilities and progress
This is a profession that's in high demand at the moment. That means that there are lots of job opportunities here and previous experience can vary – for example, we've started to bring in people with transferable skills from fields such as nursing. There are also lots of opportunities to progress once you've arrived. I started out as an Occupational Health Advisor and now I'm a Clinical Team Manager, for example. Some people also choose to move horizontally into areas like Account Management. That combination of flexibility and possibility really sets this profession – and AXA as a whole – apart.
Why it's different
Occupational Health differs from, say, nursing because it isn't shift work based; it's not always face-to-face and it's a little less stressful. You also get to make your own judgments and clinical assessments, which is empowering; although you absolutely have to justify those decisions later on, and ensure they're robust. For those stepping up from a different role, AXA offers a lot of training and support to make the transition easier.
The best bit
Every workplace is different. That means that every job we take on is unique. As I mentioned, the nature of the work changes gradually over time. And you're making a positive, large-scale impact through each project. Plus, when it comes to AXA, there are lots of great benefits to choose from, such as shares and bonuses. Our job is all about partnering with organisations – and as an organisation, we partner with our people.