AXA story
From NHS trainee to Medical Director at AXA in less than 10 years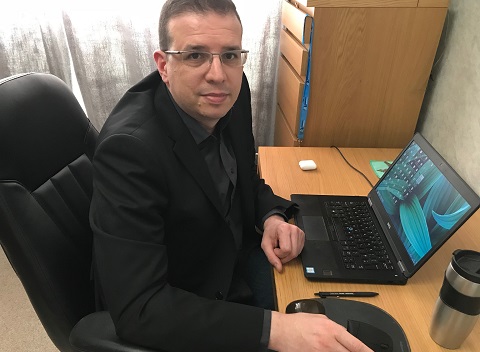 Yousef Habbab started his medical career in the NHS. Today he is accountable for all clinical decisions made within Health Services of AXA Health as the Medical Director. How did he get to where he is today and what was the transition like from the NHS to a corporate company? Here's his career journey – and why he'd recommend AXA to everyone working in Occupational Health.
When I joined the NHS originally I wanted to specialise in orthopaedic surgery but after a couple of years in surgical training, I realised it wasn't for me and made the move into Occupational Medicine in 2006 and became a trainee in this field. I learnt the ropes of the speciality, working more and more independently as I gained the necessary qualifications and experience. I finally qualified in 2010.
I joined AXA as a Consultant Occupational Health Physician as soon as I qualified. My potential was recognised relatively quickly, and 18 months after I joined, the Medical Director at the time offered me a Senior Occupational Health Physician role to support his role and deputise for him when needed. This was a great stepping stone to more responsibility. Just three years later I became the Medical Director when he moved on from the organisation.
My current role has a wide remit and involves being part of the Senior Leadership Team, line managing colleagues including doctors, and also act as the Responsible Officer for the organisation, connecting the doctors with the GMC (General Medical Council) for the purpose of their appraisal and revalidation.
No deep end here
From the very beginning at AXA, there was a thorough induction process that took place over a couple of weeks and my clinics had a reduced number of patients at the initial stages to allow me to adapt to the new IT system and processes of work. The same applies to all my new starters to ensure they land safely and they feel valued from the outset of their employment. No one is thrown in at the deep end here and there is access to ample support, which certainly had been my experience and so I ensure I'm available to my colleagues from the start and throughout their time at AXA.
Why make the move?
AXA is one of the best employers for Occupational Health Physicians in the Country. Why? Because the company place their emphasis on each individual and invest in their development, which is a winning formula for success in my eyes. The significant difference between other Occupational Health providers and AXA, in my opinion, is down to the staff management approach, the policies and procedures, supported colleagues placed at the heart of the company and the important investment in our staff.
Would I recommend joining AXA? 100 percent.
If Yousef has inspired you to join his Occupational Health team, you can find out more and see what opportunities we currently have available, here.