AXA story
Naeem's Journey as an AXA Apprentice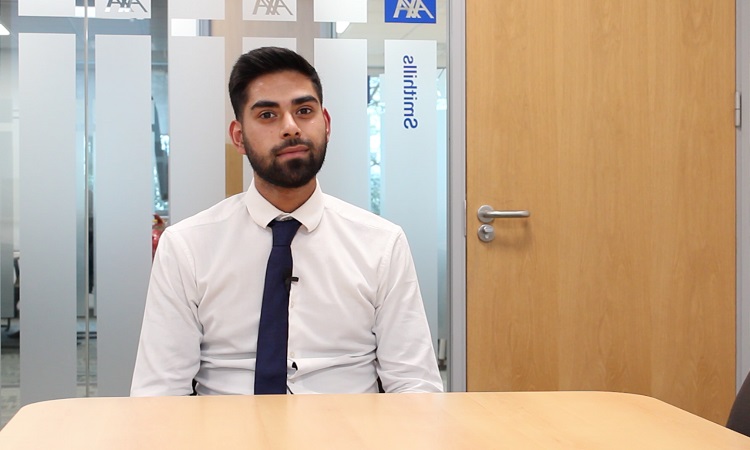 At AXA, we take promising talent and give them the right skills to succeed. That's why our apprenticeship programme is so important to us. It's not about finding someone with the right background. It's about finding somebody with the right attitude and giving them the opportunity to learn on the job. So how can an apprenticeship help you build a foundation for a future career and what makes an AXA apprenticeship unique? For National Apprenticeship Week, we spoke to Naeem Dudhiya to find out about his experience on the AXA apprenticeship programme.
"I'm Naeem Dudhiya and I am a commercial underwriter. I work for the motor trade team which involves all commercial based motor vehicles; assessing and providing insurance to businesses. It's part of a four year apprenticeship, which I'm due to finish next year."
Learning on the job and in the classroom
As part of his apprenticeship, AXA has funded Naeem through all his required exams and qualifications.
"First you get your basic qualification and then you move onto your Diploma. For the Diploma, there are four exams and with each exam there are self-assignments that you have to complete. There's also the NVQ side with exams as part of your apprenticeship that you have to complete."
From day one, Naeem was supported to ensure he felt part of the team and his responsibilities have increased as his knowledge and skills developed.
"At the start, I had a small allocation of tasks, I worked alongside a colleague, shadowing them and they would talk through what they're doing, step-by-step, for about a week or two, until I felt ready to move on. They'll then work with you and see how it goes, from there you'll slowly find your feet, get into the swing of things. Overall, the operation and the training structure is quite smooth."
We want you to succeed
Our apprentices come from all different backgrounds and you don't need loads of experience to apply. Successful candidates are the ones that show a willingness to learn, to be a part of the team and who take pride in their work.
"You've got to be very aware, focussed and pay close attention to detail, no matter how big or small your case is. I really believe the best thing to do in the interview is be yourself and express yourself. The interviewers or team managers are very relaxed, laid back, they will give you guidance in the interview and they'll give you a minute when you need it.
"I would recommend apprenticeships in general and also the AXA apprenticeships as they're just so good. They are quite different to normal apprenticeships; when I was looking for one, some of them were unpaid or minimum wage, dependent on your age. AXA apprenticeships aren't like that. They help you progress, not only career wise, but as a person. I didn't want to go to university straight away, end up in a lot of debt and find out my planned career isn't really for me. For anyone thinking the same, AXA apprenticeships are the way forward."
We have so many opportunities for apprentices like Naeem. If you think that earning, learning and gaining experience is the best way to start your career, then find out more about our early careers, you might find the perfect role for you.