AXA story
Me and my anxiety: creating a positive mind-set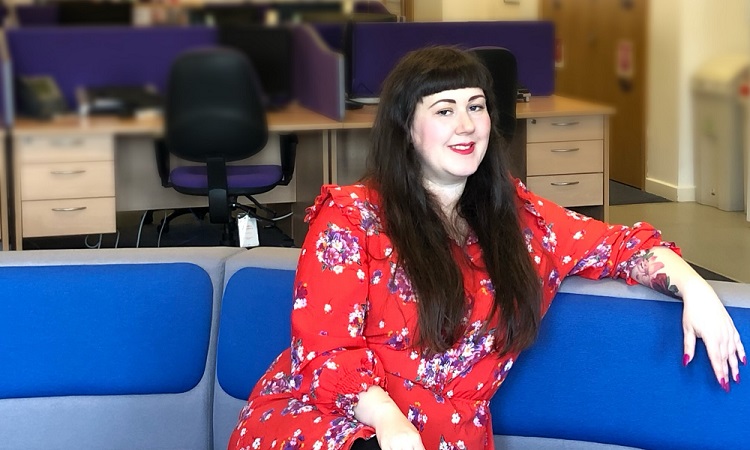 With over 9,000 people, we take our employee wellbeing seriously. It's not just because happy, healthy people help our business to grow and succeed. We also believe in empowering people to live a better life, be they our customers or our employees. Today, anxiety is a common problem in society. It's estimated that 1 in 6 people have suffered some kind of mental health problem in the last week, and that anxiety and depression combined are the most common problem in Britain right now *1. That's why we're doing all we can to make sure that our people have access to the help and support they need to face anxiety at work. To find out about how we can all help to build a more supportive environment, we spoke to Leanne, who manages the customer service social media team for AXA Direct and who became one of our very first Mental Health First Aiders.
"I've suffered with mental health issues for a very long time and it's something I'm quite open about. I think I was in my mid-20s when I started to really struggle with the day-to-day things. I supported my partner for quite a long time while I was working. We had a young family, financial struggles and one thing just got on top of another. I started to spiral and with that came the anxiety and panic attacks. I couldn't get out of bed or do anything because I'd lost all motivation. I was off work for around three or four months with depression and anxiety.
Now I feel like I've got my depression under control, but I still have to deal with the anxiety and panic attacks. Anxiety makes you overthink everything. It's like there's another person in your head saying to you that you can't do things and who's questioning everything. It turns you into your own worst enemy.
Finding a way through
I think it's important to be really open and honest about your mental health. I've found that it encourages other people to open up about their situation and in some cases it can start them thinking about whether they need to go and speak to a doctor. The more open we can be, the more we can remove the stigma and the more people we can help.
What really works for me is when my colleagues around me take an interest in what I'm doing, and help me to feel confident about myself. They're willing to step in and build me back up a little bit by suggesting times when I've done things really well. Their support is important because it's consistent, it's day-to-day and it's something that's always there running in the background.
I try to always be open to new opportunities and not let myself say no to them, just because I think I don't deserve them. I'd say you need to expose yourself at the right level so you're not overwhelmed and pick the right opportunities so it's not too much of a stretch. It feels great to be trusted with new opportunities and it benefits my mental health to know that I'm trusted and valued.
I also love getting feedback as it keeps me feeling positive. Then for every bad thing that my anxiety tells me, I try to counteract it with a good thing that I've done. The more I can do that, the more evidence I have of the good things that I've done and that has a ripple effect. It's all about resilience and exposure.
Taking positive steps
Now I'm a Mental Health First Aider at AXA and I was one of the first people to be trained. It's something that I'm quite passionate about. It's the same as physical first-aid, but for people who might be struggling with mental health. We're a point of contact within the business, so if someone is feeling overwhelmed or they need support with their mental health, we're there to chat with them and guide them through the next steps. We're not counsellors, but we can lend a friendly ear and offer support, whether that's a one-time session or ongoing to support them through a difficult time.
I'd say for anyone reading this who is dealing with mental health issues, my advice would be:
Don't listen to everything your mind tells you when you're feeling anxious.
Know that it's ok to not be ok.
Reach out to your colleagues, because they can be there to offer support when you need it.
Take one day at a time. You can't change everything at once, so just pick one little thing and focus on changing that.
Try to be kind to yourself and take the time out to relax and do nothing sometimes.
Overall, I feel as though everything I've been through with my mental health has made me a better person. It's made me better at work, improved my reputation and given me a lot of extra skills. It took me a long time to get to this point and I'm still working on things, but I wanted to share my story because it's important to get the message out there. If I can be brave and share my own story and advice for how I've coped with things, even if that only helps one person to feel less uncomfortable or awkward, then that's worth it."
*1. https://www.nopanic.org.uk/anxiety-statistics/