AXA story
Let's make great strides together for Pride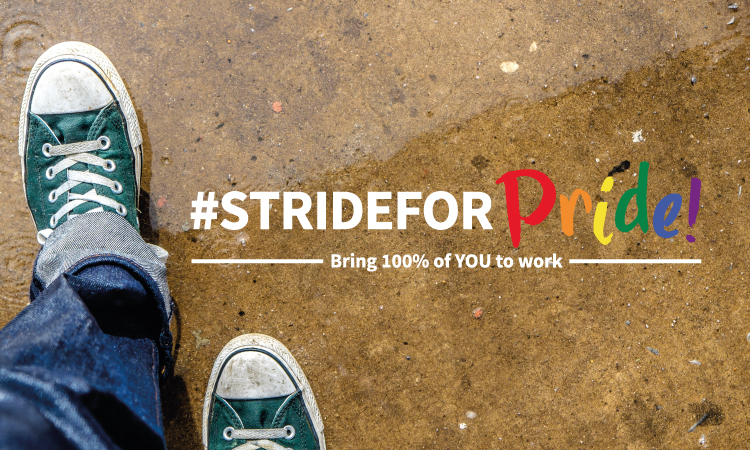 When you know you can bring 100% of yourself to work, you bring your very best to everything you do. You can use all of your experience to solve problems, you can challenge and make improvements by sharing your unique perspective and you can feel valued for all that makes you, you. Our people are the heart and soul of our business, which is why we do everything we can to make sure they feel empowered to be themselves at work. As Pride Month comes around again this June, we've found ourselves taking a look at the history of Pride, our own involvement and how we can continue to move forward with our #StrideforPride campaign to show support for the LGBT+ community at work.
Looking back, moving forward
It's the 50th anniversary of the Stonewall riots in New York City this year. It was only one year later that the very first Gay Pride March was held to commemorate the riots and while it's fair to say we've come a long way since then, we recognise that it's taken great strength and courage to get this far. In the UK, it wasn't until 1994 that we saw the first same-sex kiss on TV and it took till 2002 for same sex couples to be given the right to adopt. Two years later, the Civil Partnership Act was passed, but it wasn't until 2013 that same-sex couples were legally allowed to get married. There are, of course, many more steps forward that have happened in recent years, and each one has had been down to the bravery and determination of people standing up and saying things can and should be better.
At AXA, we've also been making strides forward to work towards creating a more inclusive and diverse environment. In 2014, we became members of Stonewall UK and created an Employee Resource Group (ERG) called AXA Pride UK, to enable people to share information. Just one week after it was launched we'd already grown into a positive community of both allies and employees who identified as LGBT+. Five years on and the group has evolved further. Now, the aim is to help drive LGBT+ friendly changes in the workplace, to offer support and the opportunity for our employees to network, and to raise awareness of the LGBT+ community and promote activities at AXA. Arlene Stewart, Chair of the AXA UK Pride ERG, shared her thoughts on why the group is so important:
"It's our differences that define us and make us successful. For the first time in my career, I'm happy to bring my full self to work and am honoured to chair the AXA UK Pride Employee Resource Group. It's a talented and diverse team, working together to make AXA a truly inclusive place to work."
Arlene Stewart, Service & Retention Operations Manager
It's not the only group we've launched to try and bring people together and create a more inclusive environment. There's also the BAME, ABLE, Gender Equality and Working Families groups.
Marching together
In July 2015, we took our first steps at Pride in London. From there we've grown our Pride presence to include Manchester Pride (2016) and Glasgow Pride (2016, 2017 and sponsoring Pride in 2018). In 2017, we became the headline sponsor of London Pride with an AXA bus in the parade. This was also the year we launched our Global Parent Policy, which was written to be gender neutral and to allow the same leave entitlement to heterosexual and same sex couples all across the globe. We entered the Stonewall index for the first time in September 2018 and then during Inclusion week we created Pride Pledge walls at AXA offices all across the UK. Throughout the week everyone had a chance to add to the walls to pledge their support to the LGBTQ+ community and share what Pride means to them. Everyone who placed a pledge on the wall received a Diversity & Inclusion switch lanyard.
Striding for Pride
We know that there's always more to be done. Just last year, Stonewall and YouGov carried out research which showed that 35% of LGBT+ staff have hidden that they are LGBT+ at work because they fear discrimination1. We believe that together we can continue to improve what we offer for our people; we can offer more support and strive to create the most inclusive and diverse workplace possible. That's why this month, we're not just celebrating Pride, we're celebrating how far we've come and we're encouraging everyone at AXA and beyond to show us how they #StrideforPride. You can share your photos of your best #StrideforPride with us on Twitter or Facebook and take a look at how other people have been getting involved. We'd also love to hear the stories of how you've made personal strides for the LGBT+ community, no matter how big or small. Together, we can keep pushing forward with energy and pride to create a world where everyone can be 100% of themselves at work.
1 https://www.stonewall.org.uk/lgbt-britain-work-report