AXA story
Learning from Silicon Valley's tech leaders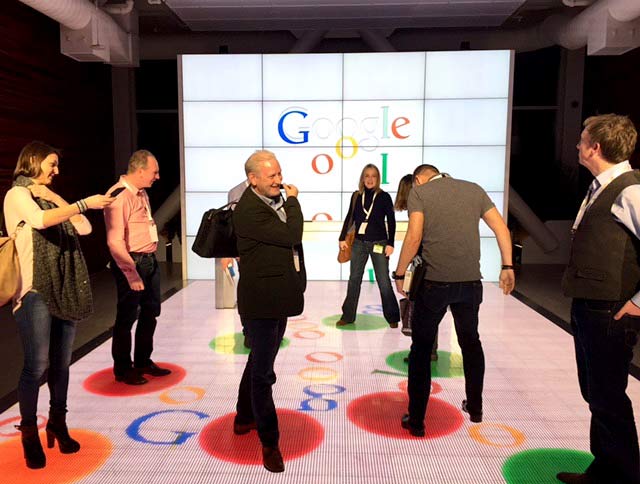 "If two people in a garage can have a good idea and turn it into one billion customers after 10 years, why can't 100,000 talented people at AXA have more than just one good idea and be able to convert their ideas into reality?" Henri de Castries, AXA Chairman & CEO, 2015
Where can you find these great ideas Henri speaks of? Where are the innovators, the pioneers, the ground-breakers? Silicon Valley in California is a good place to start. That's why we created the AXA Lab in San Francisco. We were the first insurance company to establish a presence in this tech heartland. But why? By connecting AXA with leading tech companies, the AXA Lab will transform the digital culture of our company and help us identity and exploit emerging trends that will benefit our customers.
We recently sent a delegation of AXA UK employees across the Atlantic to spend time with, and learn from, companies at the bleeding-edge of technological innovation. From bright young things Palantir and Bright Idea, to established digital leaders like Facebook and Google.
We wanted our people to find out what it's really like in Silicon Valley; to get under the skin of tech companies and bring back new ideas and new thinking – ideas and thinking that we can use to improve the way we work and the services we offer. Our 35-strong AXA UK working party spent time with some of the brightest tech minds out there. All of the companies they visited have already formed some sort of partnership with AXA globally. Bright Idea, for instance, is the company behind Start-In, AXA's employee innovation programme and they gave Paul Richmond, Head of Finance Control for AXA Direct & Partnerships, "plenty of provoking ideas for how we can manage innovation in AXA UK".
The tech companies shared many common characteristics and traits. Martin O'Donnell, AXA UK Group HR Strategy & Planning Manager, explains: "Their product doesn't matter; it's the way they do business and the way they run their business. If you have a happy and positive workforce, with a common purpose and a sprinkle of the right culture, then you bake an excellent company cake!"
It's fair to say that culture is everything at these companies. Individuality is the norm, it's championed, cherished and celebrated. The spirit of adventure and entrepreneurship is everywhere. Passion is engrained in every single employee, and a collaborative, fun and inclusive culture results in a highly productive workforce.
To succeed in Silicon Valley takes "conviction, passion and a sense of unity among a group of individuals", Simon Drinkwater (UK Group L&D Manager) observed. By connecting with Silicon Valley experts, by seeing first-hand what it takes to become a digital leader, we can continue to expand our digital culture, transform our customer experience and transport ourselves into the future.
We've lots of digital opportunities available at AXA, from marketing and communications to IT and account management. Head over to the jobs section of our website and take a look.