AXA story
Kickstart your career with an AXA apprenticeship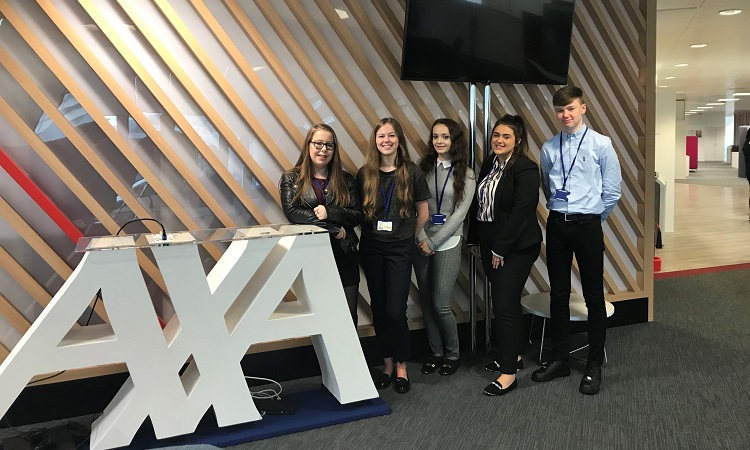 Whether you're taking your first steps into employment, looking for options after university or striving to take your career to the next level, modern apprenticeships with AXA are a great way to achieve your career goals.
Spanning business areas including underwriting, customer service, finance and claims – and enabling you to study from entry to bachelors and master's degree level – modern apprenticeships allow you to combine study with your day-to-day experiences to help you attain industry-recognised professional qualifications.
But what exactly does the day-to-day reality of life as a modern apprentice at AXA entail? And how can it help you develop personally and professionally?
Here, 18-year-old Natasha Cusack, who has been a business insurance modern apprentice in Glasgow's AXA's office since September, reveals why she chose to pursue an apprenticeship instead of university, what she enjoys about life at AXA, and why she thinks the experience has helped her hit the ground running at the beginning of her career in insurance.
Your AXA career began before your customer service modern apprenticeship, didn't it? Tell us how you got involved.
That's right! I decided to study the two-year financial services foundation apprenticeship with AXA in fifth year of high school because I want to become an accountant. The equivalent of two Highers, the first year of the apprenticeship was entirely class-based and gave an overview of how the financial industry operates. Throughout the second year, we attended AXA Direct's Glasgow office once a week for some hands-on experience to supplement everything we'd learned in the classroom.
Coming from the comfortable bubble of high school into the world of work was more intimidating than I first thought because we were so much younger and less-experienced than everyone. But we had nothing to worry about because Glasgow is such a friendly office. Everyone we met while call-listening and learning about business insurance made us feel so welcome.
What were your highlights of the foundation apprenticeship?
The highest grade you can get for the foundation apprenticeship is a B, so when I found out that this was my result I was so chuffed that all my hard work had paid off. But I think my biggest highlight was being nominated for the 'most outstanding achievement' award at the Foundation Apprenticeship Awards. I had no idea I had been nominated until the night before the awards and just being nominated was a lot to take in – so going on to win the award was an even bigger surprise!
Why did you decide to apply for the modern apprenticeship?
The AXA modern apprenticeships had been mentioned to me at the end of the foundation apprenticeship, so I put a note of interest in. At that point I was still considering going to university to study accountancy but having enjoyed the foundation apprenticeship so much, I was weighing up my options. After speaking to family and friends I decided that although university would guarantee a degree, being able to gain hands-on experience while earning a full-time wage and studying was much more appealing – and would hopefully make me a more hireable candidate.
Tell us about the recruitment process for the business insurance modern apprenticeship
Because of my foundation apprenticeship experience, the recruitment process was a little different for me. My application form successfully got me to the interview stage but unlike everyone else, I didn't have to do the phone and group interviews or give a presentation. When it came to the day of the interview, I knew the people who were conducting it from the foundation apprenticeship, so they really put me at ease. I was over the moon when I found out I had successfully secured a place and couldn't wait to get started.
What have you learned so far in the modern apprenticeship?
As a condition of the modern apprenticeship, we need to attain our Certificate in Insurance, which means plenty of studying! Now we're getting trained on van insurance, business insurance and customer service as well as working towards our SVQ, so it's a lot to take in. In fact, from learning how systems work to memorising the ins and outs of AXA's products, I'd say that getting to grips with all the information is the most challenging but rewarding aspect of the modern apprenticeship.
What have been your highlights of the modern apprenticeship so far?
A real highlight for me has been getting to know so many different people across the business and hearing about their working life at AXA. Not only has it helped me get a better understanding of how AXA operates but it's been a great way to pick up hints and tips for my own working life. I've met people who have 10, 20 or 30 years' service with AXA who still love their job. I think this highlights that you can create a career for life here where you can continue to develop and learn.
Being able to work alongside the second-year modern apprentices has been rewarding too. They're so easy to talk to and more than willing to answer any questions you have as well as sharing their own experiences. I've enjoyed sitting in on their calls as it's great being able to pick their brains on the tasks I'll be doing within the next year. I'm really looking forward to getting to go live on calls and providing the best customer service I can.
What goals do you hope the modern apprenticeship helps you achieve?
With everything I've experienced in the financial services foundation apprenticeship and learned in the business insurance modern apprenticeship so far, I'm dead set on building a career in insurance. Even if I'm not able to stay on with AXA once the modern apprenticeship finishes, I know that the knowledge and skills I'll have acquired along the way will open plenty of career options for me.
What advice would you give to those considering a modern apprenticeship with AXA?
Firstly, I'd say that you need to get to know everyone you meet while you're in the office. This might be a little harder when you start out but don't shy away and be open-minded about everything. Secondly, if you're given a task, focus and read up as much as you can so that you can showcase that you know your stuff. Thirdly, and most importantly, just enjoy the modern apprenticeship experience for what it is. Grab every opportunity going and get to know and learn as much as you can because there's no limits to how much it can help you develop personally and professionally.

Interested in learning more about how a modern apprenticeship with AXA could help you accelerate your career? Get up to speed with our apprenticeships page for more information on the qualifications and training available and to read more inside stories from apprentices across AXA.