AXA story
Innovation in healthcare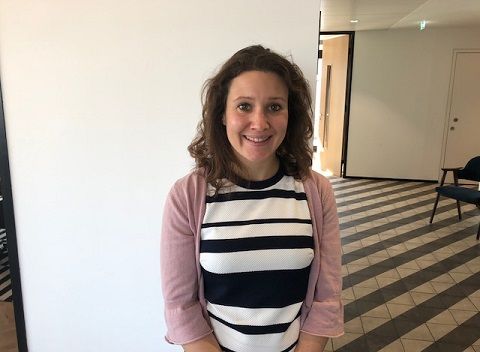 Jessica Lonsdale explains the value of the Health Tech & You awards to the future of health and wellbeing, as well as the innovative impact it's had on AXA as a business.
I started at AXA seven years ago on a six week secondment in the marketing department. Fast forward five years and, after learning all the tricks of the trade, I joined the Health Tech & You programme. An annual awards ceremony, the programme has been running for four years and exists to support and champion thinkers and creators who are shaping the future of healthcare technology.
Feeling inspired
Previously we ran the categories yearly but technology moves on so quickly that we've slightly changed the way it works this year so that we can better incorporate the innovations we find into our strategies. As such four of this year's categories are sprint based and run over three months. They focus on specific challenges that have come through from speaking directly to the people in our business trying to improve things for the better for our members.
One of the categories is related to an internal campaign I ran at the beginning of the year where I asked all employees to think of something in their lives, either personally or at work that could be improved by healthcare technology. Belinda Munro, Chief Technology Officer at AXA Health brought up a challenge around perimenopause – it is estimated that around 1.5 million women in the UK experience symptoms such as insomnia, hot flushes and night sweats every year with 85% due to perimenopause, years before a woman's menstruation cycle stops completely. The challenge looks to find technologies that help give women better control of their health and easily track symptoms of perimenopause, so they can better understand their experience and can get better support and information.
Richard Turner, Head of PPP Taking Care came up with the next challenge – looking at technology to replace the red button service. The current basic device, for inside the home, is a button which hangs around the user's neck or wrist and sends a radio signal to a box connected to their landline telephone. This is quite dated so we're searching for new technologies that can help monitor and subsequently alert (in case of emergency) a caregiver in a more intuitive and useful way, both inside and outside of the home.
The speed of development
As well as the four challenge categories we have two more consumer and media focused categories, including innovations in the early diagnosis of dementia and supporting women entrepreneurs. The Dementia Category is in partnership with Alzheimer's Research UK and is looking for pioneering ideas and developments that will help us diagnose dementia and the underlying related diseases. This dementia category and our women entrepreneurs in health tech category are now closed and we have chosen our finalists were announced on 10th April.
Personal stories
I love my job! We have truly amazing things coming through that really make a difference to people's lives. I thoroughly enjoy talking to the amazing people coming up with these innovations. It's humbling to think that they are putting all their energies into developing something for the benefit of others – and there are often personal stories around why they were inspired to get involved in a particular area.
If Jessica has inspired you or you want to find out more about our work in this area, check out our AXA Health Tech & You website for more information.