AXA story
How to embrace being the newest member of the team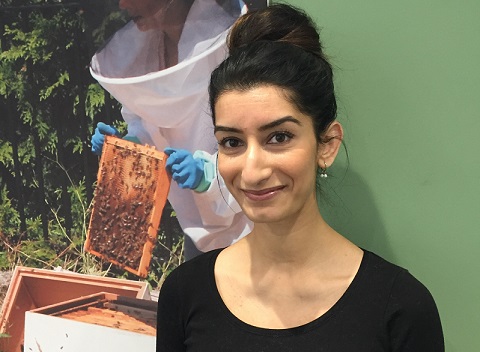 You've aced the interview and you've got the job. Now comes the hard part. How do you prepare for those first few days and weeks? How can you help calm those pesky nerves? We spoke to Aysha, who recently joined our Glasgow office as a Resourcing Partner, to hear about her experience and discover what advice she has to help you get ready for your new role.
I was a little bit nervous beforehand as I was stepping out of my comfort zone. I was moving from a more accountancy-based recruitment role to one in healthcare, and I was a bit worried as I had very little knowledge of this sector. I was quite excited to start though and the whole process up until that point had been really nice and everyone I'd met so far had been absolutely lovely. So for me, I think it all comes down to keeping a positive mind-set and doing a little bit of preparation. No matter whether you're nervous or not, here are my three top tips to help you get the most of your experience.
Ask questions, do research
Try to find out as much as you can about what's expected before you start and don't be afraid to ask questions once you're there. The people here are absolutely lovely and everyone goes out of their way to help as much as possible. Even if someone doesn't have the answer to your question, they'll stay with you until they find someone who does.
After the interview stage, my new line manager David got in touch and showed me my induction plan. While this will be tailored for each new employee, mine gave me a good overview of what my first few weeks would be like; from meetings to training, as well as trips away to meet different teams. It really helped to have an overview and it meant I could do a bit of research into the people I'd be meeting with, so I could be ready to ask questions when I arrived.
Relax and enjoy your first day
I think the more relaxed you are, the more you'll enjoy it and the more you'll take in. My first day went by so fast, but from the minute I walked in I felt such a friendly, warm feeling. There were people who had no idea who I was, and they were all smiles and hellos, it was a great way to begin my new role and really helped me to relax. I was shown around the building, then I had meetings with the various different hiring managers which was fantastic, because I was getting to know all the people I'd be working with on my very first day. It started to paint a picture right from the outset and that really helped me to get to know the business a little bit better.
Don't put too much pressure on yourself
Take things slowly and go at your own pace. It's not just about the first day. Over the next few weeks I began to get to know the hiring managers gradually and I would sit in on meetings between them and the HR Business Partners. I was able to visit different offices and put names to faces. I had various inductions to find out more about my team's challenges and successes as well as the history and priorities of the company. With all this information it can be a bit overwhelming, so it's really important not to put too much pressure on yourself and to just take things one step at a time.
We hope that helps give you a little insight into starting a new role with AXA and how to really get the most out of your first few weeks with us.