AXA story
How my physio degree helped me find a different career path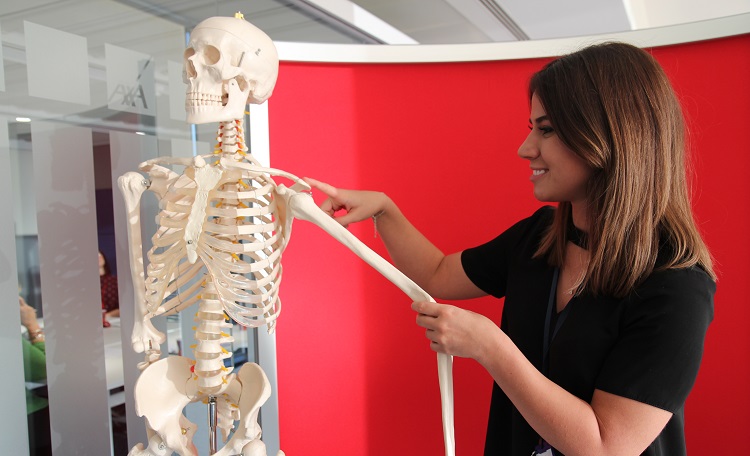 Choosing what to do after university can be a big decision, even for those studying courses in healthcare. Take physiotherapy graduates for example, while many students will choose to work in the public sector, there are more options than you might think. In fact, if you're interested in working in the private sector or are looking for the opportunity to gain experience across a variety of roles, AXA could be a great choice for you. Don't just take our word for it though, we've been speaking to Claire Balloch, one of our Junior MSK Physiotherapists, about her experience and what made her choose AXA as the best place to start her career.
Taking a different path
As a physio student I knew that the private route was the way I wanted to take my career. With the NHS you're likely to be dealing with chest physio and operated lungs as well as everything else, and I knew this wasn't the right route for me. Private physios generally deal with sporting injuries or general aches and pains from an aging population, and that appealed to me more.
So I spent four years at university and I worked voluntarily with a football club as a first aider to get some experience. Then after graduating I went straight into this role at AXA. It was a brand new role, working entirely over the phone and they offered a training programme. At first, I was a little nervous about coming into a large corporation and sitting at a desk all the time, but the job is completely different to anything I did at uni. It's opened my eyes to the other routes that are out there in terms of a career path.
Always learning and growing
I was one of the first junior physios to start training with AXA. The training programme lasted two years and I just graduated in July. A typical day for me here involves taking calls from a list. We speak to people over the phone who've got an issue, for example a sore knee, or painful back. I talk them through what I think is going on and give them advice on the phone if I think they can manage it. If they can't manage it on their own then I will refer them on for assessment, treatment or to see a specialist.
One of the biggest challenges for me was not seeing the person face-to-face. Coming out of uni you're so used to the process, so when you take the physical assessment away and have to do everything over the phone it's a huge challenge. It can come down to people's perceptions or a language barrier. Even if you have perfect English, describing precisely where a pain is can be difficult. Luckily, we have a large team here, with seniors and advanced level physiotherapists (ALPs) so we can refer to each other whenever we need to, which means I'm always supported.
As well as our day-to-day role we have training, which for juniors is around one hour a week and will involve listening to calls, presenting or having a practical session with another physio. I can also build on my skills outside of being a physio and a clinician, as I learn more about management and leadership. For senior physios, you get one hour a month, which matches up with the HCPC standards of physio. You can even deliver your own training too. I've actually taught a lot of sessions on gymnastics because that's my background.
Getting the right balance
After university, I continued with the football club for a year and then got offered the opportunity to join a private clinic as a physiotherapist. Originally I worked full-time at AXA, but when I spoke to them about reducing my hours and days to be able to fit both roles in, they were really supportive. So now I work 30 hours over set days, but they are flexible and I can change them if I need to.
I'm actually thinking of changing career path again as I want to stay at AXA, but do different clinic work. My team leader has already said they'll work around that as well. The team here are really great, they're so supportive and we're quite a fun and light-hearted department. Obviously, we're serious when it comes to the job, but when you're off the phone you can have a chat and a laugh. We're pretty sporty too. We held our own Winter Olympics last year, and we have a running club twice a week as well.
I'd say for anyone else considering taking the MSK private route, AXA is a great option. The support and guidance from senior physios is brilliant and you never feel like you're on your own. I've had both internal and external courses paid for and I think working here has given me so much more confidence. I'd say go for it, you'll love it!