AXA story
How learning new skills can boost your confidence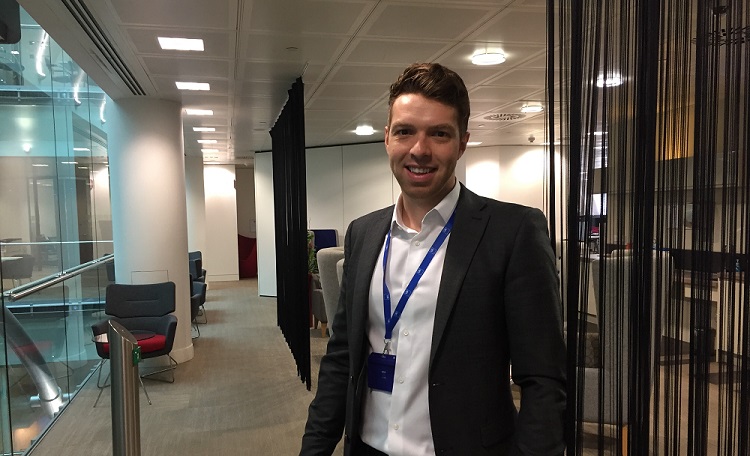 Many people worry about social situations, but for people with low confidence and social anxiety this goes much deeper. In fact, currently it's thought that around 3 million people in the UK have some form of anxiety disorder*. Suffering from low confidence and social anxiety can affect your working life and any opportunities to progress; you dread presenting in meetings, you worry about what your colleagues think of you, you blush or sweat if you're asked to speak, you avoid starting a conversation with the new member of the team. These are all opportunities for you to be noticed, to network, to practise your skills and show what you're capable of. So how do you deal with anxiety at work and what can you do to help yourself? This is the situation Tom Bailey, Learning Experience Manager, was in before he joined AXA.
Overcoming your fears
Tom had a crippling fear of public speaking all throughout school and university. It was only when he was asked to speak at a family member's funeral and couldn't, that he finally decided enough was enough. Tom spent the next 7 years reading up on public speaking, attending workshops and personal development sessions to help him build his confidence and ability to speak publicly.
When Tom joined AXA, he was already on his path to building his confidence, but he knew he would still have a way to go.
"When I started I explained to my manager what I was going through. At that point I was still struggling and had a development gap. So to help me fill that gap, my manager asked me to speak in meetings, in front of different leaders from across the business. After this I was asked to speak at leadership events and external conferences. It all made a huge amount of difference to my development."
Global Learning Day at AXA
Now, Tom uses his experience to help others. In his role, he's responsible for the learning culture at AXA UK and for engaging people to drive their own development. In May, he became part of the project team for the first ever global learning initiative.
"We're hosting the Global Learning Day on the 8th November to promote the range of learning solutions that we have available across AXA. We work with LinkedIn to offer around 6,000 digital LinkedIn learning courses which are free and available to everyone across AXA UK. Then there are the 400 university level courses which are also free for all of our employees, to help them drive their own development. We also have bespoke development of training solutions and e-learning courses which can help people with their specific roles. Really, we want to sow the seeds of a new learning mind-set, to create a culture of continuous learning for all employees so that they can be in control of on their own development."
A culture of continuous learning
The initiative was split into four stages which started with an opening ceremony on the 24th September. It opened with the AXA Learning Games, which was centred round the 'AXA Pocket Coach', a mobile app. Over the course of the weeks, the team behind the initiative launched different videos, challenges and learning content to educate and teach people about various topics. This all helped to build up the momentum to the Global Learning Day which is a celebration of learning. On the 8th of November, there will be a closing ceremony where the team will announce the winners of the AXA Learning Games competition.
Tom, who's been working with colleagues from across the globe, described how the project has been running so far: "We have about 30,000 people engaged globally in this project through the app. People are learning new things every day, it's been really successful so far. Often, you're just doing your day-to-day job and you just don't realise what is available. So it's important to keep reminding people that they can continue to develop and try new things. The campaign helps to promote all the different ways you can learn and has really helped to create a bit of a buzz in the office around learning and development."
The benefits of learning and development
Learning and development can play a huge part in good mental health at work. More than anything, Tom understands how it can be for others with low confidence, anxiety and mental health issues, to get started on a path to better mental health.
"There's a lot of research around how people with low confidence and anxiety use avoidance as a coping mechanism. We make excuses so we don't have to do things which take us out of our comfort zones and that can make it very difficult to change. I work with a coach at the moment who is helping me, and although it's hard it's really good to recognise that it's something that you can work on."
Tom's advice, for anyone else suffering from low confidence is to be authentic. He says, "We tend to always think about how we want to come across, how to create this perfect version of ourselves when we're speaking or presenting. In reality, that's never going to happen and actually people want to get to know the real you. So if you can learn how to be comfortable with just being you, by being real and authentic, that can really help."
*Results of the most recent National Study of Health and Wellbeing https://www.anxietyuk.org.uk/get-help/anxiety-information/frequently-asked-questions/