AXA story
How freedom keeps things fresh for our underwriters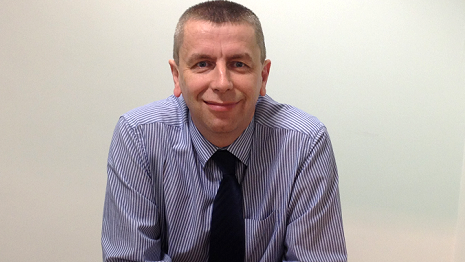 Hi, I'm Andrew Chamberlain, Underwriting Manager for the National Trading Centre in Bolton. As the second largest branch in AXA Commercial, we deal with approximately 1800 brokers that are not dealt with within the branch network of AXA. It's a big operation in terms of the number of underwriters on one site and it's definitely a challenge in terms of making sure all our underwriters are underwriting in accordance with the guidelines we set out.
We have a number of underwriting teams including fleet, motor trade, new business, renewal, technical excellence, and a new deals and schemes team, and my role sits above all those from an underwriting perspective. I deal with referrals on a case-by-case basis, making decisions based on how the broker has performed with us and what they may have for the future for us. I also do some face-to-face negotiations with brokers and potentially with clients as well. Put simply, I lead the branch from an underwriting perspective.
I technically started with AXA in 1988 at Provincial Insurance (who were acquired in 1994 by UAP, and subsequently by AXA in 1996) in their fire and accident department. I moved between Bolton and Preston in various underwriting roles and was given the freedom to really develop relationships with brokers. In 2002 I moved to Manchester as a senior underwriter. It was the best thing that could have happened to me. I was involved in a far greater area of business with bigger cases and therefore bigger decisions to make. It was a brilliant experience and I progressed well.
In 2008 I moved to the National Trading Centre in Bolton, which is where I am now. I originally become the trading underwriter manager, but quickly got promoted to the Underwriting Manager. For a short space of time I was looking after both Bolton and Manchester but it's now just Bolton.
This position has undoubtedly been my biggest challenge in my professional career. I was no longer underwriting at a case level – I was supposed to lead, manage and trust people to get on with it. My job was to build that team and mould it into what I wanted it to be. I gave my team lots of freedom and decision making authority, but I had to trust them to do that and that was quite difficult when you're used to having direct control and making those decisions yourself.
We have an empowerment guide in place at a branch level but beneath that we give our underwriters a framework to operate within which gives them the freedom to make decisions. I think that's what makes AXA such a good place to be for an underwriter; that freedom. I always say to our underwriters, it's just your opinion about risk and providing you have all the facts, you can make the right decision.
I work hard but I enjoy it, I like the daily challenges on writing business and rate increases, I love that fact that every day is different. I want to learn something every day and this role gives me that satisfaction. I would never say I know underwriting, I'm still learning, it's such a broad topic and role gives me that exposure to learn. There are always changes afoot; new risk, trades, issues we find in terms of profitability, growth, rate increases, dealing with brokers and so on, that's what keeps it fresh and interesting at AXA.