AXA story
How to change the game in customer service. Literally!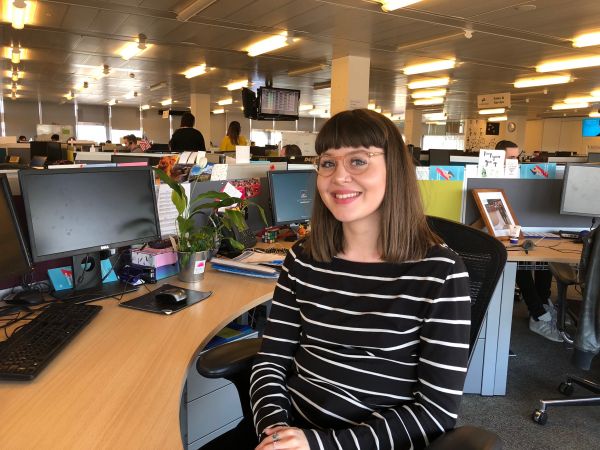 What's life really like for our award-winning AXA Ipswich customer service team? We want all our Customer Service people to develop their careers and have access to the training they need to continue to provide exceptional service to our customers. So we spoke to Stephanie Challis, a Customer Service Representative at AXA Ipswich to find out how she's keeping her team, as well as her customers, happy.
I get a lot of satisfaction from helping customers, providing them with a good service and being able to see enquiries and queries through to the end, making sure everyone is happy.
Coaching to be the best you can be
AXA are really good at developing people. I often step up quite a lot outside of my regular role. I develop staff to competency and often act as Floor Manager overseeing the whole department, answering queries and helping with systems.
When I'm coaching, I listen in to calls that a colleague may have had with a customer and go through the call giving positive and developmental feedback to help them improve. I also check that they are completing mandatory business specs correctly and I mark them on their customer care and communications throughout the call.
You could be a game-changer
There are quite a few members of staff in my team and I'm running an exciting incentive for them at the moment – Monopoly! I have created the board myself and I've personalised the landmarks and streets so that they are AXA offices around the UK. I've even made Community Chest and Chance Cards!
The team need to answer questions about products that AXA offer and, if they get it right, they get money from the bank. Yes, I've made our own banknotes too (with a little help from my team who helped me cut them all out!). If you complete the business regulatory to the required target you get three rolls of the dice. If you fail your checks you miss a turn. There are 11 people in my team, it's good fun and is going down really well at the moment.
One big happy family
The office we work in is open plan, with a communal lunch area and each team is a pod of 12. It's a friendly place to work with a lot of support.
Outside of work we hold team bowling nights and quizzes. There is a certain amount of coaching per month and monthly one to ones, there are also development programmes if you are interested in other areas of the business as AXA always look to promote from within.The people are nice and approachable and the culture is great, it feels like a real family atmosphere.
We hope that helps give you a little insight into our culture at AXA and what kind of coaching and development you can look forward to in a role with us.