AXA story
Global secondments, great opportunities and good friends: 15 years at AXA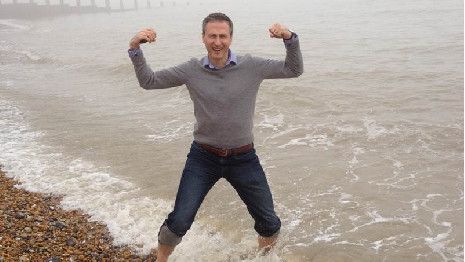 Did you know that AXA has at least one customer in 196 countries? As Director of Medical Services at AXA PPP International, it's my job to make sure that our customers all over the globe can access healthcare and be supported, whatever country they're in. From air ambulance providers to hospitals and specialists, I draw together a strong global network of all the capabilities that our worldwide customer base needs. Insurance might not be thought of as the most exciting job in the world but I've been at AXA Health fifteen years and, I can safely say, my career has been anything but dull!
My time in Asia is definitely a highlight for me. Having been involved in a number of partnerships, I was given the opportunity to take a secondment in Singapore. My brief, if you like, was to work out ways that we could support Asia colleagues and exploit the significant potential to develop health business in Asia. It was a massive opportunity – for AXA and for me. My whole family and I moved over and we had a great experience. Professionally, I was embedded in the senior management team out there, working as the Vice President of Regional Healthcare at AXA Asia. I built up a good understanding of their operations and worked with the team to develop and deliver a strategy for success. It was massively rewarding and I'm proud that we now have a successful offshoot in the region with over 30 employees, which I named Asia Healthcare Management. When the three years drew to an end, I had the option to either extend my time in Asia or come home. We'd all had an amazing time but I felt that it was right to take my family – and everything I'd learned – back to the UK.
A great thing about AXA is that it doesn't stand still. In some companies, coming back after an international secondment could potentially be a bit of an anti-climax but I came back to a business that had significantly evolved and I now use the insight that I gained to help us grow even further. I spend quite a lot of time with international corporate clients and because I've actually been there and experienced it, I can add a bit of credibility to what we offer. For instance, I know what it likes to have a child fall off a horse in and need medical attention in the country! Instead of just going in and saying 'we have a group of so many hospitals across the region', I can give them a deeper insight and answer their questions. I can explain what to expect when they arrive in the hospitals or the companies that'll be looking after them.
It's been a real collaborative approach and the collaboration we have is one of the things I enjoy most about working at AXA. Being able to build relationships and come together with brilliant people to do great things, all channelling our energies towards a shared vision. On a personal level, I've also made some amazing friends and as I still have responsibility for some aspects of our work in the Asia region, I was lucky enough to be able to go over and spend some time there last week – which was great from both a productivity and social point of view! I've learnt an incredible amount over the years: about different cultures, different perspectives and different ways of working etc. I've managed some arrangements that have grown to be significant and feel I've been able to make an impact on the business. It's never been quiet or easy but it's been all the better for it – 15 years on and I'm still happy to this day.
Stephen Ryan, Director of Medical Services at AXA PPP International.