AXA story
Giving the best possible service to our customers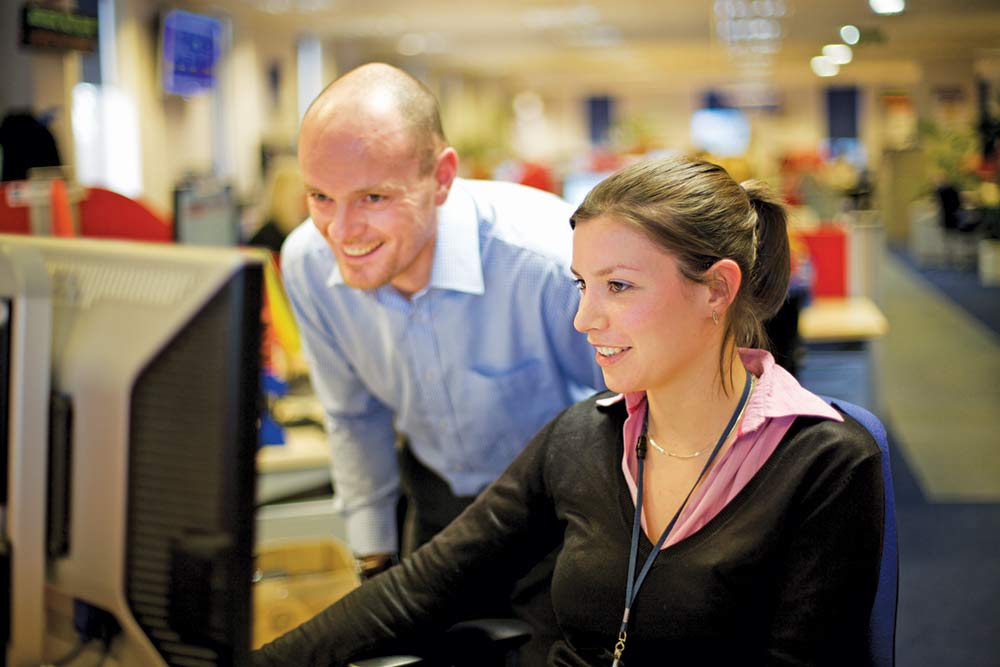 Hi, my name is Jemima Wilson and I'm a Senior Personal Advisor within the Individual Member Centre at AXA Health. As a Senior Personal Advisor, I support my colleagues to deliver the best service possible and encourage them to be the best that they can be in their role, so I'll help them with any complex queries and coach them to improve their personal development. I also deal with customer queries myself, so either on the phone or via our email system, and customer complaint calls. One of the major things we do here is take ownership of individual queries, which means you get that sense of satisfaction once you've dealt with something and you get a positive result. You can really see the difference that you make to people on a day-to-day basis.
I enjoy being a Senior Personal Advisor because I help my colleagues develop and to see the progress that they make, which gives me a great deal of job satisfaction. I do a lot of coaching so if someone is maybe struggling to meet average handle time targets, or there is an element of the role that they don't fully understand, I'll work with them and make sure that they are able to work towards improving themselves.
Prior to AXA I worked at Hastings Direct for three and a half years. While my role there was more of a sales role, it was a very different type of company to work for. The main difference is that at AXA you are actually actively encouraged to develop and progress yourself, whether that's in your current role or a new one, whereas previously there was virtually no opportunity to do that. It was made clear to me that you're able to work your way up to a higher level within the business.
That support very much played a part in my transition from Personal Advisor to my current role. It took me a year to work up towards becoming a Senior Personal Advisor as I needed to gather evidence for case studies and produce a validation paper in order to prove that I was able to assist my colleagues in dealing with complex queries. It takes a lot of work, but you do get assigned a coach who helps you through, which was great in helping overcome any difficulties I had as part of the process.
It's also a really collaborative environment to work in. I recently worked on a project with Senior Personal Advisors from others areas, such as the SME department, Change Management team and our Complaints and Customer Resolution team, to re-map our complaints process. The aim was to make sure that the process is the same across the business, so whoever the customer is speaking to, they get the same outcome and the best possible service from us.