AXA story
Five reasons why AXA is a great place to build a fulfilling career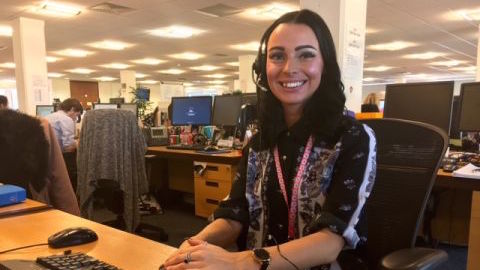 Kirsty Jones joined our office in Haverhill nine years ago, straight from college. Since then, she's progressed in a number of different roles, won awards and developed on an exciting career path. We caught up with her to find out why she's 'never looked back'.
1. The career progression is brilliant
I joined AXA when I was 17. At the time, I wasn't sure what I wanted to do with my career and a friend recommended the role at AXA to me. After six months on the team, I knew that it was the place for me. A lot of that was down to the career development opportunities here. Right from the beginning, I saw people progressing into different roles and it was clear there were a number of paths you could take. My own career path has been very varied. I went from my original role to a New Claims role and then moved into the Personal Injury team, where I was dealing with bigger clients and more complex claims. From there, I felt I'd be best suited to a people management position and my current role as Operational Process Senior is a stepping stone to becoming a Team Leader.
2. AXA really cares and the support you get is great
You're very well supported – both professionally and personally. As part of my role, I have monthly catch-ups with people on the team to discuss how things are going and their long-term career aspirations. I then work with them to make sure they have the coaching, mentoring and support they need to progress towards their ambitions. When I decided I wanted to go travelling, AXA allowed me to take a six-month sabbatical and it didn't hinder my career prospects at all. In fact, two weeks after I came back I went for the job as Operational Process Senior and was successful!
3. The opportunities mean you never feel stuck in a rut
With so many different teams and roles you can move into, if you want to progress, there's always somewhere you can go. That could mean trying out a different area of the business or just taking on some additional responsibilities. For someone like me who started from college, I've really been able to shape my own career path and achieve my ambitions.
4. High morale, a happy team and plenty of fun!
Like every job, there are times when things can be challenging but the team spirit here is great. You have a brilliant bunch of people around you and the culture is upbeat and positive. We often get together for lunches, dinners and nights out outside of work. It helps that the office is right in the middle of the high street so there are plenty of places around us to go!
5. You're recognised for your hard work
As well as being able to grow and develop, AXA makes the effort to recognise how much people put into their roles. We have the AXA Awards once a year where we all get together and people can vote for their peers to win different awards. I was lucky enough to win two at the last ceremony – Leader of the Year and AXA Hero. Very exciting.