AXA story
First class service for customers, fantastic opportunities for employees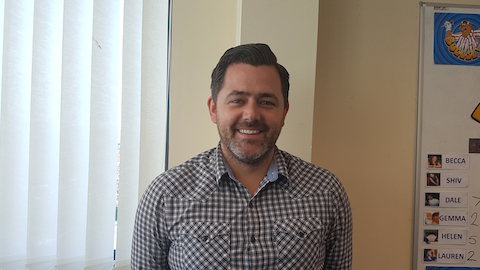 Matthew Fern joined the Teesside Help Team in 2009. Now a Team Leader, he shares his thoughts on what makes brilliant customer service and how AXA supports individuals to develop their skills and succeed in their careers.
Why did you join AXA?
I was looking for a new challenge and I was excited about the prospect of working for a well-established global company. After looking into the role, the company and receiving lots of recommendations from people that already worked here, I knew that this would be a fantastic opportunity for me – and I was right!
What does the Team Leader role involve?
As Team Leader, I look after a team of Help Team agents and provide them with the support and coaching they need to achieve their goals. We want to help the team be the best they can be, so we all work together to create an excellent team spirit and make sure customers have an efficient journey.
What three qualities would the ideal person have that join the team?
Flexibility. The Help Team deals with a wide range of queries and the environment is fast-paced and innovative. We're always looking for ways to improve, which mean changes can happen frequently. Because of this, it's important that people joining the team are open to change and can bring their own ideas and thoughts to our projects that run throughout the year.
Hard working. While some queries might come via email or post, the role is mostly telephone based and agents take calls throughout the day. It's hard work but also extremely rewarding. We provide the tools for individuals to deliver a fantastic and high quality journey for the customer but it's important that agents are highly motivated and driven to achieve objectives.
Enjoys helping customers. The Help Team is where our customers look if they require help for a wide range of queries. So, it's vital that customer service is at the heart of everything we do and we look at every possible solution to provide the best outcome. If you enjoy helping customers, providing excellent customer service then the Help Team role is perfect for you!
What direction can your career take within AXA?
There are lots of fantastic opportunities available here at AXA. Everyone within the company has their own PDP (personal development plan) which is a fantastic tool to help you within your current role, and also potential future roles. In the service and sales departments, we currently have a number of programmes to help people towards another role in the company. One of the programmes called 'Transformers' provides an opportunity for agents to work with one of our support areas on a regular basis so they get a real feeling for the role and can develop their skills.
What's your favourite thing about working at AXA?
We have a fantastic, friendly atmosphere and everybody is proud to say they work for AXA. We are really proud of not only our individual teams but the whole service department. Although the business has grown over the years and is now over two sites within Teesside, we all work towards the same goals and help each other as part of a team.