AXA story
Find your voice in the AXA choir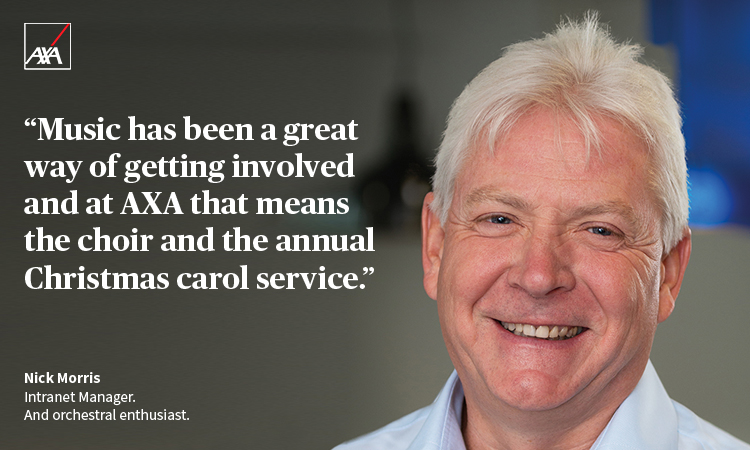 Nick has worked as an Intranet Manager for AXA PPP for the past four years.
A trombone player since the age of eight and subsequent music graduate Nick has played at all the big concert halls for some fantastic conductors. He's also a conductor himself. But for a long time he kept his music and career separate. However, recently the opportunity to bring some of the passion he has for music presented itself at work after the retirement of a colleague who had previously run the annual AXA PPP Christmas Carol Service choir. Nick got involved and was inspired to turn the once a year choir into an all year round event culminating in a concert.
Nick believes that everyone can sing, that music is a great leveller and that it has the ability to improve physical and mental health through aerobic exercise and calmness. With its informality and inclusivity the choir offers employees the opportunity to join a diverse group of people at work who are coming together for a common purpose. Choir practice also allows colleagues to leave their workspace and return re-energised and happier every week.
Nick has also been able to bring his unique talents as a conductor to the management of his work team; where everyone knows what is expected of them but each individual works to their particular strengths.
One of Nick's favourite phrases is 'be yourself' and by sharing his musical talents he is helping to make AXA an inclusive place for his colleagues.
Interested in finding out more about life at AXA? Read more of our #LifeAtAXA people stories here.