AXA story
Don't let dyslexia hold you back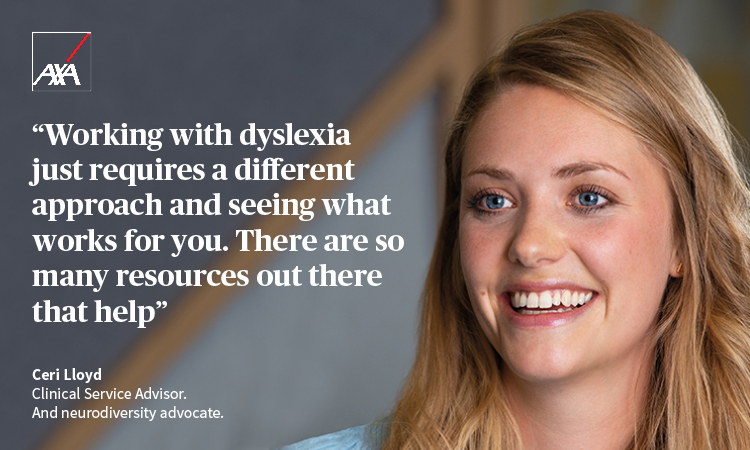 Ceri is currently working as an advisor for AXA Health in the Bristol office, on secondment to the Clinical Services team. She joined the business as a graduate with a first class degree. She's also dyslexic.
Ceri was officially diagnosed with dyslexia and a condition called Irlen Syndrome in her second year at university. Her diagnosis came as an emotional relief as for years she'd felt very anxious and stressed about why she struggled academically at school and college.
Following her diagnosis she was given a tutor and mentor who helped her understand her strengths and to develop tools and coping strategies. This was exactly what Ceri needed to achieve her potential at university, but although she understood her dyslexia from an academic perspective, she didn't know how she would manage in the workplace.
When she applied for her current role, she felt hesitant about declaring her dyslexia on the application form as thought this would affect her chances. However, the recruitment team contacted Ceri and asked her to come for an interview and the rest is history!
To Ceri, the recruitment team and managers have been very supportive because they have seen beyond a difference. Ceri thinks that people with dyslexia can be judged too quickly but felt that her team has seen beyond this and supported her to achieve her potential.
There have been a few adjustments within Ceri's working environment so that she can do her job with confidence and to the best of her ability. This has included having an independent workplace assessment with an educational psychologist, coaching sessions and headphones to block out background noise.
Ceri is still learning about dyslexia and other conditions related to neuro-diversity, and how they can be managed within the workplace. She has a strong support network both at work and home and has attended conferences held by the British Dyslexia Association. She is keen to get involved in Dyslexia Awareness Week and wants to help people at AXA to be more aware of what dyslexia is all about and to overcome stereotypical preconceptions.
Ceri is a shining example of how being different shouldn't hold you back from what you want to achieve in life. Asking for help and declaring your vulnerabilities shouldn't be something to fear, but we all need to open minded to differences.
Interested in finding out more about life at AXA? Read more of our #LifeAtAXA people stories here.