AXA story
Coming Oot! – Celebrating LGBT History Month at AXA Glasgow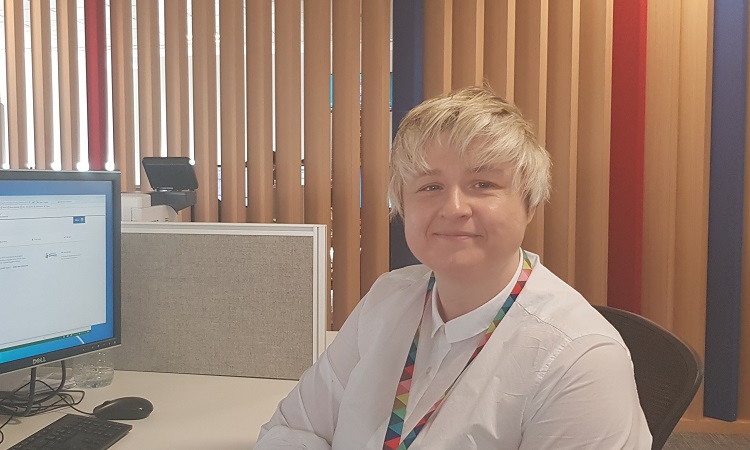 February is LGBT History Month; a time when individuals, communities and businesses come together to celebrate the LGBT culture. While it's a chance to see how far we've come as a society, it's also time to acknowledge how far we still have to go and to look towards the activism of the future.
Business Insurance Advisor, Carol Byrne, is an active member of the PRIDE Employee Resource Group (ERG) at AXA Glasgow, and shares our passion for creating a diverse and inclusive working environment. We spoke to her to find out more about the special event taking place at AXA Glasgow to celebrate LGBT history month.
More than just ticking boxes
There are five of us in the Pride ERG at AXA Glasgow and we're focused on events that we can organise to make us as inclusive a place to work as possible. We do this on top of our normal job, so it's quite hard sometimes to fit the time in but we make it work. The thing to remember is that there's never an end point, you can never be 100% diverse, but we try and do what we can. We've got quite a few people in the office interested in increasing visibility and driving towards making AXA more and more LGBT friendly, which is fantastic and very encouraging. Plus we've been involved with Stonewall to find the best practices to make it easier for people to be LGBT and everything that goes along with it. Young people these days are very quick to recognise if a company is truly LGBT friendly or if it is just ticking boxes and appearing at Pride marches.
Coming Oot!
For LGBT History Month, we're screening Coming Oot! A Fabulous History of Gay Scotland at our offices. It charts how Scotland changed from a conservative society in the 60s and 70s to where we are now, one of the best countries in Europe to be LGBT. The documentary highlights some quite heavy issues, but is also very sweet, and quite funny as well; a snap shot of how Scotland was and how it's changed. Two of the people in the documentary, Susan and Gerrie, were the first women to get married in Scotland when Equal Marriage was made legal in 2015 and we've asked them to come along to the screening. They were curious as to why an insurance company would be holding an event like this: I explained that we have employees who are LGBT or have children or other family members who identify as LGBT, so by having a visible active community here, we are highlighting that no-one has to hide who they are or worry that homophobia will be acceptable at work.
It's important to have documentaries like Coming Oot as it helps put into context where we are as a society and to understand how changes came about - whether through social or political factors. It's especially important for younger people who didn't live through those times to know how far we've come. A lot of people still don't have the support they should, they still feel isolated and feel they can't come out, so change is still needed and we need to be there, encourage each other and show support.
Changing the face of the finance industry
We've invited other people from the banking and finance industries and we've had RSVPs from people at Barclays, Directline and Chubb. The idea is to try and change the face of financial institutions away from the typical image of a white man in a suit, because that's not necessarily who our customers or our colleagues are. We could've done the screening somewhere else, but we have everything we need right here. It's also important for the staff to be aware of it so that we keep the profile of the taskforce of the LGBT Pride group in people's minds. It's also been shown that if you're happy at work and feel your contribution is valued, you're so much more productive - so from a business point of view, if companies do not get on board, they will get left behind.