AXA story
Caring for the carers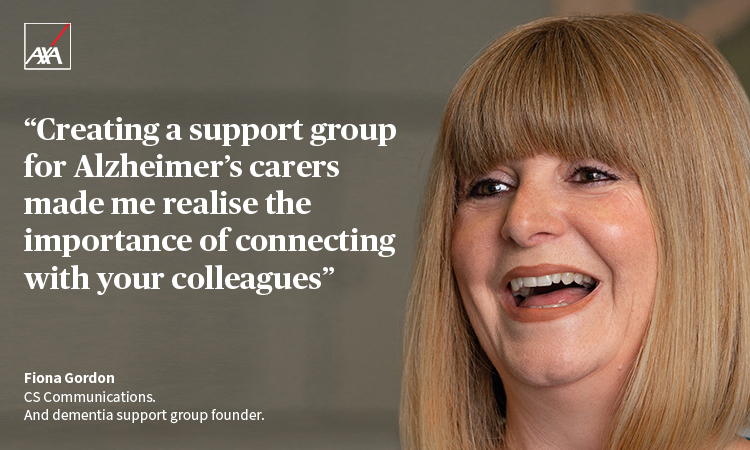 Fiona has worked for AXA PPP for 22 years, the last 11 of those being in the Customer Service Communications Team. She's passionate about making a difference to her internal customers in the contact centres and supporting them with clear information so they can better help our members.
Following her late father's diagnosis with dementia and Alzheimer's, and frustrated by the lack of support for carers, Fiona wrote an article on the subject for the in-house magazine. She ended it with a call to anyone in a similar position as a carer to get in touch if they wanted to. Two people responded and they started meeting.
From the beginning her managers have encouraged her and been really supportive, giving her the time to set up the group and support other people. Since then it's grown into a regular monthly meeting with more than 20 people involved. Some people prefer to meet on a one-to-one basis or for a phone conversation if something is worrying them. The support group aren't experts but as Fiona says "they do know what they know" and it's good to talk to people going through a similar experience.
Fiona's father sadly died nearly two years ago but she is still actively involved in the group and recently arranged a guest speaker from outside the business to talk about other support available.
Fiona's valuable experience with the group was also called upon by last year's successful winning Collaboratory Team from AXA PPP as they were developing their Hudl app.
AXA now has a Carers policy under AXA Everyone, but Fiona's story is a great example of one person taking positive action to help and support others following her own experiences. Her message to others in a similar situation is for them to know that 'this too shall pass' and to try to live for the moment. Next year her plan is to visit other parts of the business to see if similar support groups could be set up in other locations.
Interested in finding out more about life at AXA? Read more of our #LifeAtAXA people stories here.