AXA story
The buzz about bees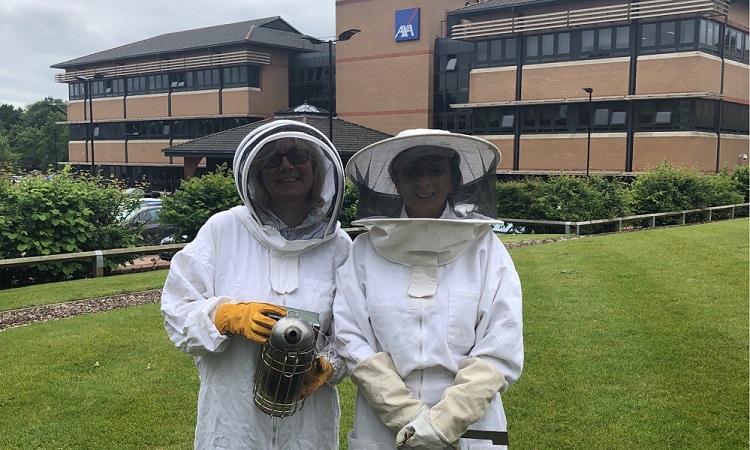 Katie Randall, AXA Environmental and Energy Manager, and Teresa Haynes, AXA Team Manager, talk about the impact of the AXA bee hives on the environment and local community, as well as how it benefits their colleagues.
"It all started when I was in a London hotel for a work event. I opened the curtains and saw a row of 12 hives on the rooftop opposite – and I thought I wonder if we could do that? As AXA's Environmental and Energy Manager, part of my role is to think outside the box and engage employees with something that's a bit different. So when I got back, we had a discussion in the office and that was that!" explains Katie.
Taking flight
Off the back of Katie's meeting, Tonbridge-based beekeeper Peter Hutton, who became a beekeeper over 50 years ago as a boy, came in to the office to do some training for anyone that was interested in learning more about bee keeping. After the training, Katie announced that AXA was going to get three beehives and asked if anyone who'd done the training would like to be involved. "And I jumped at the chance! Because this isn't something that I would have had the opportunity to do otherwise," says Teresa. Only Katie and Teresa remain from the original group of trainees taught by Peter a decade ago, although they are joined by other colleagues they've trained up themselves. "It is a commitment – it's once a week in the summer, but for me, it's a lovely opportunity to get away from my desk for an hour," says Katie.
"The bees are an integral part of what my role is about," continues Katie. "I feel very lucky that I'm able to do this sort of thing. And because AXA has invested in my role as Environmental and Energy Manager, people feel much more engaged when they can see the impact we have on the local community." And it's had an impact on their personal lives, too. Teresa was given an AXA long service award and after some thought, knew exactly what she should do with it. "I could have bought a watch or some jewellery, but in the end I was talking to my husband – who'd been in to see the bees here at AXA on a couple of occasions – and we thought one of the new style of hives would be a great idea for our garden. Called flow hives, they were invented in the US and when you want honey, you just put a key in and turn it and the honey comes out of a tap!"
Honey money
It's not quite so easy for the team at AXA. Every year the bee team collect the honey from the bees and sell it, donating all the money to AXA's chosen charity. "We pot the honey and we'll do that in one of the offices so that people see what we're doing and want to buy some," says Teresa. "They feel a connection to the AXA bees." But you have to be quick to get your hands on some, as the usual yield is around a hundred pots.
If people in the local community have an issue with bees or have any questions, then Katie and Teresa are always available for them to speak to or offer advice. "We'd leave a swarm collection to the local bee keeping associations, but it's nice to be able to give tips where we can. Like if you see a bee looking a bit tired or bit glazed, give them a spoonful of sugared water – one part water to one part sugar – and it instantly revives them," explains Teresa. Katie and Teresa also go into local schools to talk to children about the impact of bees in the environment.
Interested in joining our team here at AXA? Then take a look at our latest opportunities and apply online.