AXA story
A brilliant team and great facilities– why I love working in customer services at AXA Redhill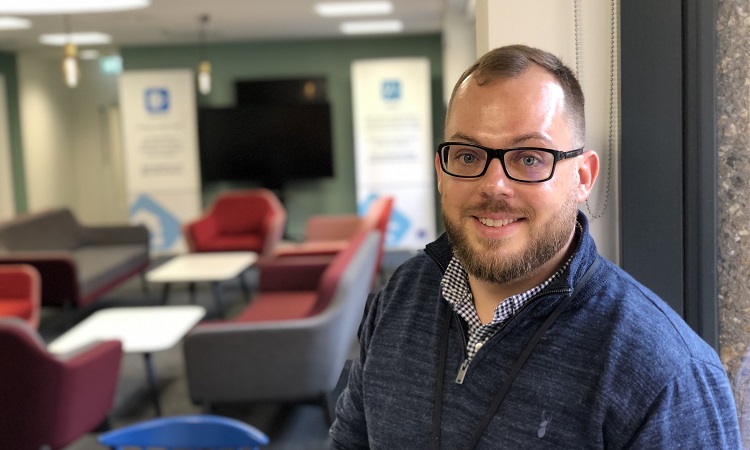 Kelvin started at AXA's Redhill site back in 2008 as a Customer Service Advisor. Having worked his way up through the business, today he is an Operations Manager for the Customer Care Team at AXA Partners. He explains why Redhill is a great place to build your career.
I relocated to the UK from South Africa in 2008 and I needed a job. I applied for a Customer Service Advisor role at AXA and four weeks after arriving in the UK I started my first full time job. My first few weeks were exciting, learning new skills and understanding our products. AXA provided ongoing development opportunities which enabled me to begin working my way up to a Senior Customer Service Advisor. Our business went through a transformation in 2012 which created new roles allowing me to take the next step in my career – management!
Promoting from within
We focus on promoting from within and are proud to say that many team managers in our contact centre have progressed from entry level roles. Our COO has progressed from the same level – albeit over 22 years - and also holds Global responsibilities within AXA Partners. We place a lot of value on people knowing the business across multiple functions, we therefore offer employees the opportunity to shadow other departments, such as HR, Compliance and Account Management. Our employees are often keen to find out more about different parts of the business and this is a reflection on AXA as an employer – it's a real testimony to how much people enjoy working here.
The easiest way to describe the culture is that it's like a big family – everyone knows everyone, people are approachable, polite and professional even in the most challenging times. We all work towards the same goal of putting the customer first; that hasn't changed in the ten years that I have been with AXA. The building itself has though, which is a huge bonus – it has been significantly renovated from top to bottom – literally! It's very modern, we have an amazing cafe and there's a focus on technology which enables us to adopt an agile working environment. This not only helps us to do our work in the most effective and efficient way, but ensures we're able to work better together whether we are working from home or in the office.
Supported to succeed
When a new recruit starts, we do everything we can to support them on every step of their induction. The training process begins with a three day introduction and after three weeks learning the ropes, they go live on the phones. They work alongside our more experienced Customer Service Advisors, who are on hand to answer any questions, taking them through the case management system.
What makes working at AXA Partners in Redhill different to other customer service roles? Well, we provide our customers with assistance and reassurance in what is often a stressful situation. Being able to help provides a real sense of job satisfaction and purpose. Beyond the role itself, we have an amazing office with great facilities and fantastic social environment– we have an annual party and several BBQs throughout the summer. Plus, we have a strong sense of corporate responsibility and have several fundraising events and volunteering opportunities throughout the year – which in 2018 has included rowing 51 km on the Thames, wing walking and a number of other achievements.
If you're customer-centric, enjoy problem solving and are driven to succeed, we'd love to hear from you: https://bit.ly/2rMX0v3