AXA story
Breaking the taboo around eating disorders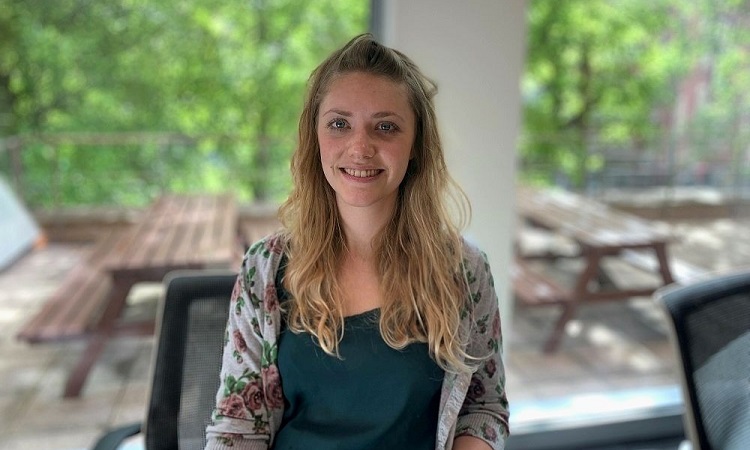 When it comes to breaking the culture of shame or confusion around eating disorders and neurodiverse conditions, it all starts with having open conversations. That's why we create the kind of culture where people are encouraged and supported to talk about these issues. We've been speaking to Ceri, one of our Case Managers in the Clinical Services Team, about her experiences with work, dyslexia and her mental health. At AXA, she supports our members through tough times dealing with anything from cancer diagnosis to mental health problems. Today, Ceri is happier and heathier than ever, but it wasn't always like this. When she first left university, Ceri found it hard to talk to previous employers about both her eating disorder and her dyslexia; it was on her mind 24/7 and affected her work and home life. This is her story.
Life before AXA
"I think my eating disorder started when I was 15, during my exams. I was so nervous about doing well, and at that point I didn't know that I was dyslexic. Looking back at it now I think that controlling and restricting my diet was a way to cope with the anxiety I was feeling. It was only at university that I found out I was dyslexic. I managed to cope with it at university but it was a massive jump going into the workplace. When I started my first desk job I didn't make many friends. I remember how I used to take my lunch break and go on long walks just to burn some calories off. I'd be panicking about breakfast, lunch and dinner. I cared a lot about what I looked like. I wasn't able to control the world around me, so I was trying hard to control what I looked like instead.
A brighter future
One of the things I liked about AXA was that they were looking for diverse people. I felt comfortable being able to say that I was dyslexic, and knowing I could be myself. When I started, I had a workplace assessment around my dyslexia and I mentioned that I also had an eating disorder. I had a mentor for the first eight weeks which really helped me in terms of understanding my strengths and weaknesses and how to overcome them, and it also really helped me with the anxiety I felt. People here are really nice and there's so much diversity in the workplace that it makes it easier to be yourself. I'm just me at AXA and I'm accepted for who I am.
A listening ear
At AXA we have Mental Health First Aiders. If you're feeling a bit off and in need of support you can speak to them. You can also speak to the Employee Assistance Programme or your manager. Just having the managers being aware of these kinds of issues really helps as they're very supportive. It also helped being open with my colleagues. They were all really lovely about it and there's no way I would have recovered from my eating disorder if I hadn't talked about it. I'm quite open about the fact that I used to have an eating disorder now. My manager said "Ceri, if anything comes up and becomes too close to home, you let me know" and to hear her say that from the offset was so nice and showed that she cares.
A way to move forward
It's been over 10 years since I was at my worst. I finished my therapy about a year ago and now it doesn't affect my working life anymore. I feel better and how I look doesn't matter, whether that's in the workplace or elsewhere. It doesn't shape how others see me.
The first thing I'd advise if you're suffering from a mental health condition is to go and speak to your GP. If you suffer from an eating disorder or any mental illness you tend to suffer in silence, you don't want to talk about it and you think you're abnormal. Talking about it can normalise it. It can provide you with support and help when you're suffering. Some things are still hard for me to talk about, but by talking more openly, it removes the shame from the issue.
Employers can also provide a safe space for people to go to and have the opportunity to really support people with these issues. Your workplace can often be the one consistent thing in your day, where you're going to see the same people day in and day out, which can help you structure how things are. And if you're an employee at work and see that someone isn't feeling well, just start a conversion. Ask "how are you doing today?" rather than "Are you ok?" because you're being specific about the present moment. Listening is the biggest thing. You might not be able to help, but just by listening you can offer a huge amount of comfort to people."