AXA story
Breaking down barriers with BAME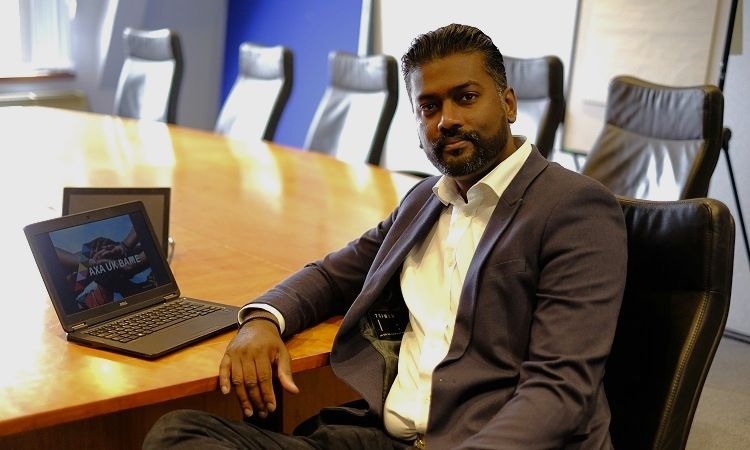 Black, Asian and Minority Ethnic (BAME) groups are still considerably under-represented in the workplace in the UK. There are a number of reasons why, from recruitment issues to equal access to opportunities. That's why in March 2018, we launched the first BAME employee resource group at AXA in the UK. We set ourselves three objectives; to address possible underrepresentation of BAME employees, to raise awareness while tackling unconscious bias and to collect ethnicity data to help make AXA a diverse and inclusive workplace for everyone. We spoke to Finance Analyst, Tej Bungsy, co-Chairman and founding member of AXA UK BAME to find out why he joined the group and how their role has evolved since its creation.
"Our previous Group CFO had mentioned the BAME group to me and I started seeing blogs and communications around it. I realised that this was a topic I was passionate about and that I have my own life experiences to share, so I decided to join.
We have a really diverse customer database, so there's every reason for us to want to have a diverse employee population too. It can have a significant impact on the way we understand our customers and their needs. It's not just about the BAME community either, AXA are looking at the entire diversity and inclusion area. It will show that we are a diverse and inclusive company that don't discriminate. The potential benefit to the UK economy from full representation of BAME individuals across the labour market through improved participation and progression is estimated to be £24 billion a year, which represents 1.3% of GDP. Therefore, building a workforce with people from different backgrounds will be really good for us. This also benefits our investors, it benefits people who might be considering working for AXA, and it benefits our customers. Research has also proven that companies that are more diverse outperform their rivals."
Data is everything
"Right now we have big ambitions, but we're still very new. We only have 6% of ethnicity data for AXA UK, so we can't really see the full picture. At the moment we're focusing on collecting ethnicity data. We've set ourselves the target of getting ethnicity data for 70% of all our employees by the end of 2020. We know we have a lot of work to do and by the end of this year we'd like to reach 50%. Having access to the ethnicity data of all our employees will help us to understand if we are dealing with underrepresentation of different ethnicities.
Then we can start to ask questions and look at where we need to focus our attention. Do we have a problem with unconscious bias in recruitment? Is there an issue with promotion? It all starts with the data. Without this information we can't really know exactly what's happening.
We know that we can't achieve our goals overnight and want to make it clear that we are not advocating the end of a meritocracy at AXA. We want to see a pipeline of BAME talent here at AXA and progressing through the company based on their ability. Our attempt at achieving this will focus on getting school students from all backgrounds interested in a career at AXA and taking a look at our recruitment policies (as well as those of the recruitment agencies we use) to recognise and overcome any unconscious bias."
Starting a conversation
"Currently, we send out monthly newsletters to make people aware of what BAME is, what we do and who is there to help. All of our BAME members receive it, as well as members of our Diversity & Inclusion group, and we encourage managers and leadership to cascade it to their teams.
We hold lunch and learn sessions, as a place where people can talk about issues they might be having. For example, at our first lunch and learn session in Tunbridge Wells, we discovered that one lady worked in a building where there was no prayer room. As a woman, she felt she needed to find a nice, private room to pray, so she'd been using other rooms wherever she could. It was because of the lunch and learn and our BAME champions that we became aware of the issue and helped her to find a solution. We want to replicate this everywhere, so that when issues come up, people feel comfortable and have someone to talk to. BAME champions can be the first point of contact for any issues or ideas around how to change things.
Our first anniversary celebration is coming up soon, so we've invited everybody within BAME and the D&I group to come and celebrate. On the 30th April, we have about 80 people coming to the event in London where Dr Kamel Hothi OBE will be the keynote speaker. Getting everybody in one place really helps to start conversations internally, to see how other people think and explore what we can do to help. We also have a newsletter going out on the International Day for the Elimination of Racial Discrimination to help raise awareness."
Looking forward
"If you're thinking about joining AXA or you already work here and you'd like to join our BAME group, I'd say don't think that being in a minority group makes your voice unheard. AXA wants to hear people and wants to encourage diversity and inclusion. We want to make our workforce happy, because that increases the strength of the business both financially and physically.
If you're at work and you have all the same types of people, talking about the same types of topics, then no-one is bringing anything new. We should never be scared of who we are and where we come from, because we're all different and being different is interesting. It makes people talk to each other and discover new things about one other.
So, my advice is come, join and be included."