AXA story
Being proud of who you are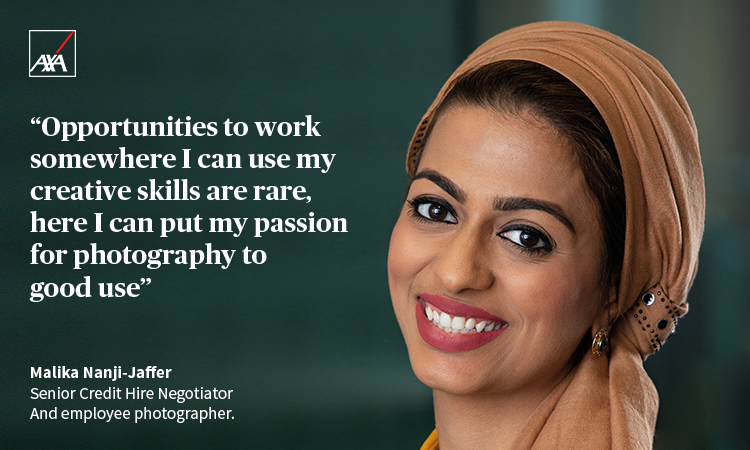 Malika works in the credit hire department at AXA Insurance and is based in Birmingham. She's been with AXA for just over a year. Malika graduated with a fashion degree before finding her way into insurance.
Malika comes from an Asian background and she knows how difficult life can sometimes be for people from different cultures. Wearing a headscarf is part of Malika's religion but when she first started working here she didn't wear it as she had concerns about how her colleagues, including her managers, would perceive it. Eventually she spoke to her manager about it and received an overwhelmingly positive response. Now she wears her headscarf all the time and can't remember the last time her colleagues actually saw her hair!

Malika works full time and is full-time mother to her son. She has flexible working hours so she can work and still pick her son up from school. On top of this, her husband suffers extremely from Psoriasis and during a recent difficult time, she found her family and managers at AXA to be very supportive. This has made her passionate to work with AXA in supporting a charity like Psoriasis UK.
As well as this Malika also runs her own graphic design business outside of work time and creates a range of marketing material for local businesses in her area. In the rest of her spare time, if there's any left, she's a keen baker and Make-up Artist.
Malika also has an interest in photography, and she can now bring that to work, having recently joined our network of employee photographers – capturing events around the business from the employee perspective.
She strongly believes in being proud of who you are.
Interested in finding out more about life at AXA? Read more of our #LifeAtAXA people stories here.