AXA story
Be proud, be strong, be 100% you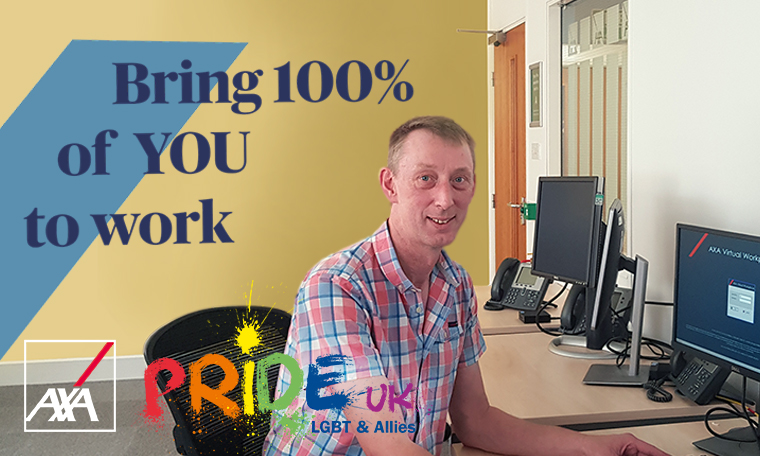 Being part of a diverse company can only make us stronger. We have the chance to see things from a new perspective, to learn, grow and succeed, and to better understand our customers. That's why we're on a long-term journey. And our goal is the day when everyone at AXA is able to bring 100% of themselves to work.
Like Graeme Renwick, a desktop assessor for household claims, whose role places him right at the centre of our customer experience. Every day he connects directly with customers, through a live video feed, to assess claims in person. It's a role that requires him to be able to empathise with our customers and really understand what they need. Starting out as a claims advisor 10 years ago, Graeme's first thought when he moved to AXA was how open he could be about himself from the very start. Here's his story of how being able to bring 100% of himself to work has empowered him to do so much more.
"As a gay man, I've experienced times in my career where I've met with negative attitudes. I've been in situations where my sexuality had to be kept under wraps and I wasn't allowed to just be me. At AXA, I was sort of out there from the very start. Nothing was hidden from the moment I applied.
There's a really strong community here at AXA, with people from all across the LGBTQ+ spectrum. I became part of the Diversity and Inclusion Committee first, where LGBTQ+ has been an ongoing focus, alongside other areas like mental health and disability. I'm not afraid of being out and I like to be as vocal as possible, so when the Committee first asked if anyone wanted to join a specific LGBTQ+ community, I put myself forward.
This year we kicked Pride season off by attending Lancaster. There were around 250 people there, including half a dozen colleagues from AXA and their families. I think it's important for us, as part of this company, to be putting our identity out there into the community. It's not just a celebration of who we are, it also shows the LGBTQ+ community that there are businesses ready to support and empower them to do their best. So I am pleased that we are sponsoring Dublin, London, Glasgow and Brighton Pride events.
Actually, one of my colleagues took part in Lancaster Pride and afterwards she shared a little bit about herself with me. She talked about her own experience of coming out and the support she's felt within AXA. It was really great to hear that she's always felt comfortable here and happy for people to know about her lifestyle.
And the best thing about Pride is also the joy that the community has. Everyone comes together to join in and celebrate and it doesn't make any difference what lifestyle or issue people have – you can just be out there with it. It's about realising that we're all just human and there to enjoy life – that's my favourite part.
I'd actually say I feel more comfortable at AXA, as an employee, being out. The support I've had has been tremendous too. I was diagnosed with HIV in 2007 and from the word go, AXA have known about this and supported me through things like health checks when I've needed them."
Curious about what Diversity and Inclusion means at AXA? Why not ask Jess Hardy, Diversity and Inclusion Manager, what she thinks over on AXA Insiders.
You can also watch out for more about our Pride activities over the coming month over on Twitter @AXAUKCareers or on Facebook AXA UK Careers.