AXA story
Be bold at work every day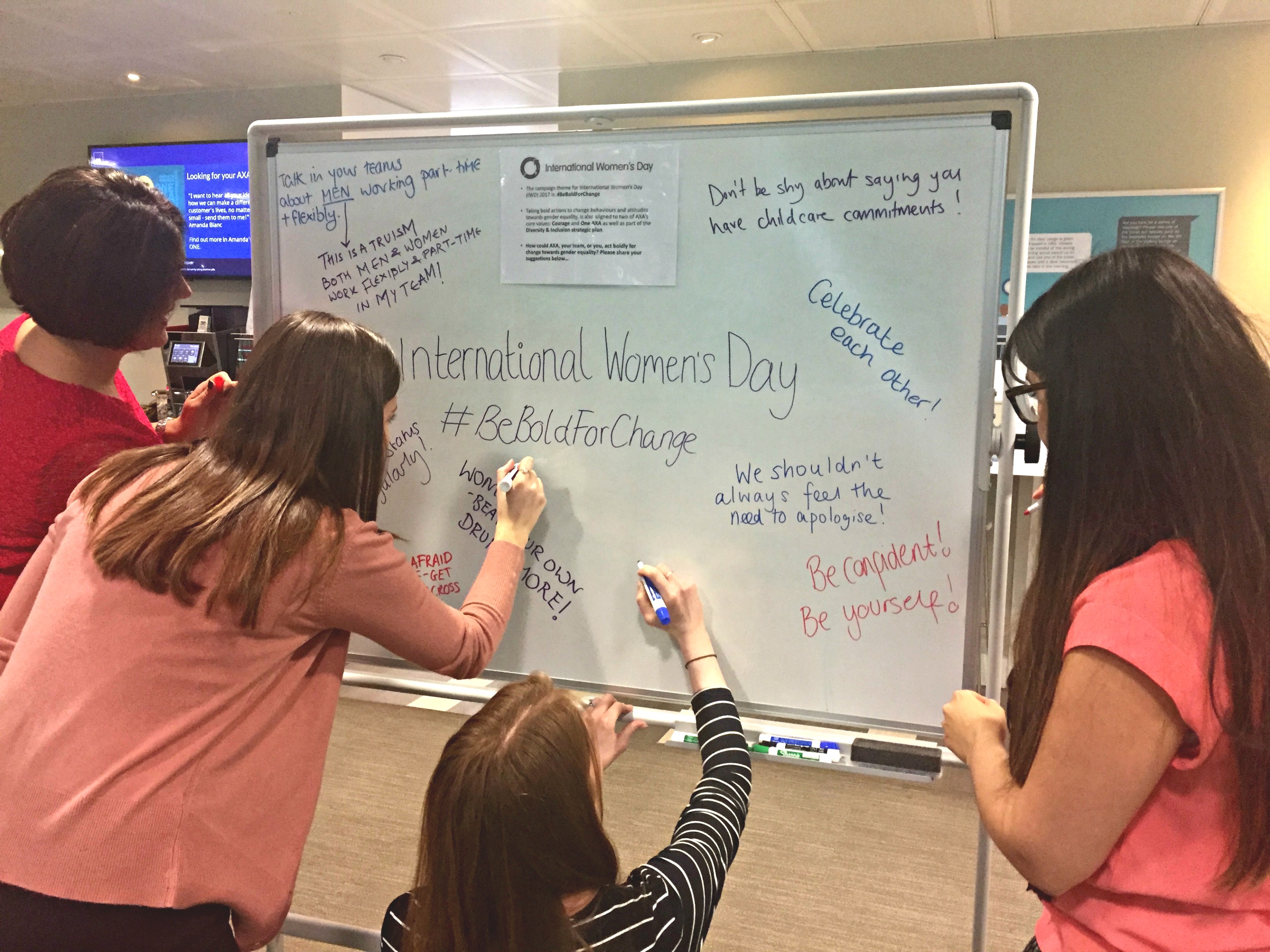 On March 8th, we joined the world in celebrating International Women's Day. How did we mark the event at AXA? We asked employees at our London office to share their advice and inspirational messages about how we can all Be Bold For Change at work.
"Beat your own drum more!"
A study found that women often hold themselves back by stepping aside for men when it comes to receiving credit for success. Now's the time to stop being modest about your achievements. Be strong, stand tall and be counted. Understand your value, sing your own praises and make sure that the people around you understand the effort you put into your job and the great results that you produce. Why not forward that email of thanks to your manager to show them how well your hard work has been received? 
"Don't be shy to say you have childcare commitments!"
Being there for your children shouldn't impact on how you're seen in work. If you need to leave work on time – do it! We know that meeting the demands of work whilst enjoying life at home with your family and friends can be hard to juggle, that's why we give our employees all the support they need to maintain a healthy work-life balance – relieving stress and increasing productivity.
"Speak up. Speak out!"
According to a study into gender inequality at work, on average men do 75% of the talking in meetings. We're committed to having a more gender-balanced workforce and developing female talent across our business, so if you're not doing so already, speak up and let your voice be heard! Why not challenge yourself to step outside of your comfort zone in your next meeting?
"Judge people by what they do, nothing else!"
We should all be judged and judge other people on their actions and their work - not on their gender, sexual orientation, religion or the colour of their skin. We're proud to foster a culture that enables every employee to bring their whole selves to work. After all, we spend a lot of time at work, so we want to make sure that it's as enjoyable as possible.
We thoroughly enjoyed showing our support for International Women's Day and are proud to support women across our business.