AXA story
AXA's road to resilience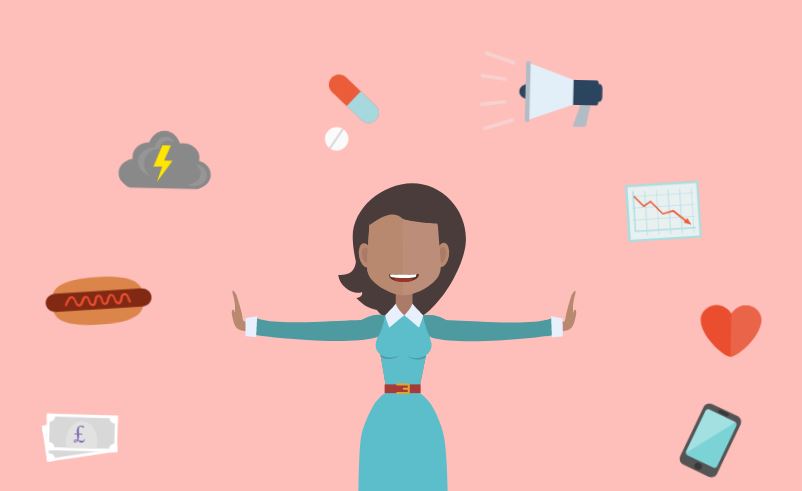 Here at AXA, resilience is more than just a buzzword. We know that our ability to recover from setbacks and deal with change plays a key role in our wellbeing, both at work and in our home lives – that's why resilience is a trait we want to encourage and develop in everyone. In order to do this, AXA Health launched #TRYit – a variety of initiatives focused on laying the foundations for resilience so we can set ourselves up to thrive. Who better to test it out than our employees? We've spent the last couple of months encouraging our people to join in to improve their day-to-day wellbeing. And it turns out, everyone was much keener to get involved and engage with the scheme than we'd expected!
First things first, what is resilience?
We define resilience as how we respond and react to the difficulties we come across every day, such as stress and confrontation. Our ability to deal with these situations, and adapt to them, can make all the difference to our mental and physical health, as well as our productivity. But don't just take our word for it. Watch this short animation from AXA Health's Director of Psychological Services, Dr Mark Winwood, to find out more:
What are we doing at AXA to help our employees build their resilience?
Like any skill, resilience can be developed, it just takes some practice. We've been taking steps to support our people so they have access to this inner strength whenever they may need it. This includes encouraging them to take part in #TRYit – a campaign designed to help our people thrive at work. Led by experts at AXA Health, over the last couple of months we've been supporting the #TRYit campaign across all AXA offices in the UK, encouraging our people to get involved.
#TRYit consists of three, four-week challenges:
1. #CaffeineCurfew
Our #CaffeineCurfew saw employees ditch the caffeinated drinks after 2pm. We thought it would be challenging to get people involved in this one, but they were actually much keener than we expected! And soon they saw the difference that drinking less caffeine made to their lives – some reported that their energy levels increased and their sleeping habits improved. In fact, it made such an impact to some employees that they told us they wanted more non-caffeinated drinks in our vending machines!
2. #Walk30
#Walk30 focused on getting people out and about during their working day. Sparing 30 minutes five times a week, employees briskly walked during their commute, on their way home, during their lunchbreak and even during walking meetings! We had maps located in our offices and breakout rooms with planned 30 minute walks marked out on them – so there was no excuse not to get involved! This moderate exercise not only improves levels of alertness but helps support a better night's sleep – and our people definitely felt the benefit of getting away from their desks for meetings.
3. #MeTime
The third part of our campaign focuses on #MeTime, an initiative that will see our people finding time to focus on number one and practice the art of mindfulness to help build their emotional intelligence. It's a really handy technique that's surprisingly simple to learn; all about awareness and feeling grounded in yourself. Alternatively, you could just pour yourself a cup of decaf tea and put your feet up at the end of a long day, if that suits you more!
​
Taking positive, small steps towards building and strengthening our resilience can support a better working environment and positive outlook for everyone. It goes to show that these challenges can be beneficial in more ways than one, but they ultimately help us support the people who make us great.
Are you on a workplace resilience journey? We'd love to see you get involved. You can share how you're becoming more resilient by tweeting us at @AXAUKCareers.