AXA story
AXA Business Insurance sponsor Youth Enterprise Live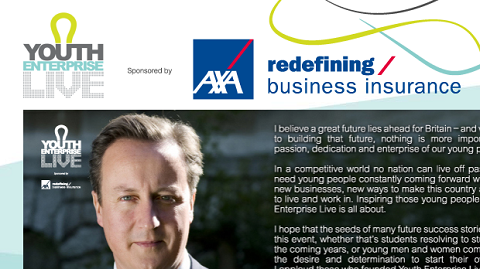 Youth Enterprise Live 2012 is an event focussing on employment, education and enterprise for 15-30 year olds and brings together a collective audience of solution suppliers and young people to define and determine a more productive and resolute future.
We at AXA share the belief that Britain is a nation of aspiring entrepreneurs. These are tough times. And so if you're just starting out it's important that you're able to get quick and easy access to the right help and advice, at the right time. When we first heard about Youth Enterprise Live we knew it was important. We were determined to do whatever we could to make it happen – and so decided to sponsor the event.
Taking place at Earl's Court, London on the 12/13 October, this is the first exhibition purely aimed at the youth community in the UK and offers attendees a chance to experience, educate and gain inspiration for their prospects in future employment and starting their own business. It will showcase successful young entrepreneurs who have already begun their journey, who will share their experiences and the support they received and help to alleviate the fear factor of going it alone.
So whether you're looking to carry on in education, get that dream job, or set up a business of your own – we believe that Youth Enterprise Live can help. We look forward to seeing you there!
For more information on Youth Enterprise Live visit http://www.youthenterprise-live.co.uk