AXA story
An apprenticeship for everyone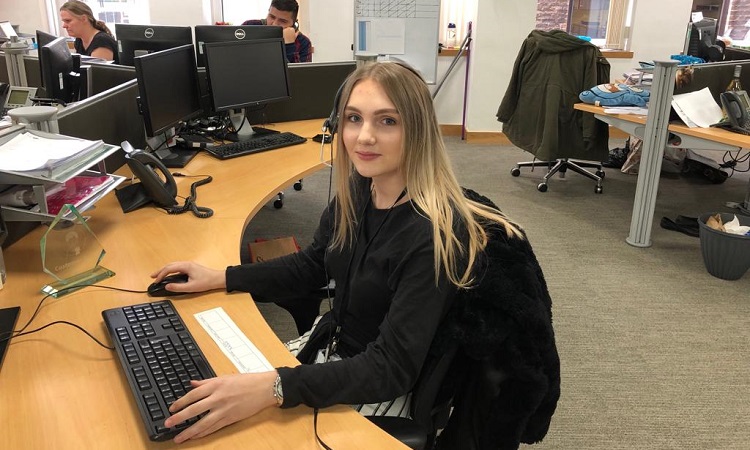 A lot of people think apprenticeships are only for students and young adults beginning their careers, but we don't see it like that. Apprenticeships are for people of any age or experience who want to keep learning while progressing their career. For National Apprenticeship Week we want to celebrate some of our hard working apprentices at AXA; whether they're taking their first step into the working world or looking to progress to the next stage of their career. So we spoke to Kaylee, Rory and Willow, to find out about their experiences on an AXA apprenticeship and how it matched up with their expectations.
Kaylee
First is Kaylee, who's been at AXA for 12 years; working her way up from customer service advisor to Manager of the Distribution Change Team, responsible for managing a team of change managers across the UK.
"I always strive to develop and learn new skills – this is when I am at my best. The AXA apprenticeship scheme seemed like a great opportunity to further my learning in Business and Management to support my existing role and future career development, as well as growing my network."
The course is designed to accommodate people who are fresh out of full-time education as well as people who are further down their career path.
"The faculty and other students are incredible, they have made it so easy to transition back into learning after a long break. The course is hard work but the information I am learning has already proved to be invaluable. I have been able to share these learnings back into the business and they have proved to be an asset in my role."
Willow
Willow is a 19-year-old apprentice who chose an apprenticeship as alternative to university. There are the usual benefits of earning money while gaining a qualification, but Willow has also enjoyed the culture and social side of the apprenticeship.
"I did consider that socially I could perhaps miss out a bit, but AXA do sports and social clubs and I've made really good friends here. They are very diverse, especially in age, which is great."
For AXA, enabling the apprentices to develop is a priority and where possible they're given the flexibility to focus on their study.
"We get seven hours of study time per week, over two half days, and I get so much done in this time. We are provided with books, online revision sessions and face-to-face workshops. Before, I had only ever had part-time jobs. The course is more relaxed, not like school, and I have responsibility for my work and I am trusted to do my job which is really important to me."
Rory
Rory is an apprentice working as a personal advisor and studying the Level 3 Insurance Practitioner apprenticeship. He was attracted to the idea of being an integral member of the team and being given real responsibility while working towards his qualification at the same time. He is also building a network of other apprentices all across AXA.
"You will not be sitting around making people cups of tea! I have the same responsibilities as any personal advisor would have and I am involved in the team as much as anyone. Other than the revision time and the lessons I go to, I am treated the same as everyone else."
Whether you're just leaving school, looking for the next step in your career or you're working at AXA and want to develop your knowledge; if you're interested in joining our apprenticeship programme then find out more information here.