AXA story
An AXA guide to shining at assessment centres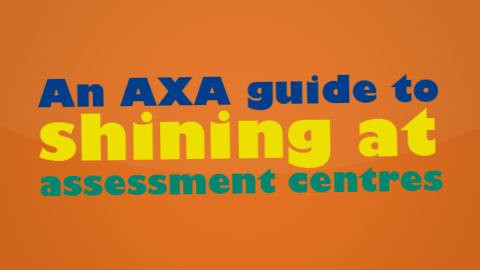 It's the grand finale, your last chance to show that you'd be a brilliant addition to the graduate programme. The great news is, you've got this far already – that's really promising. We've liked what we've seen and we hope that you have too. Our assessment centre will be more in-depth than your interviews so far – not scary, frightening in-depth but really-getting-to-know-you in-depth. So, we've put together some top tips to help you prepare to shine and show off your skills.
Prepare
Review and refresh. Go back to your original application and have a read through the questions and the answers you gave. Then, have a good think about the assessment process so far. Not only will this help you to prepare, it'll also help you to think of anything that you want to ask us.
Dig a little deeper. From our locations to our aims and values, by this point you probably feel that you know the organisation like the back of your hand. But there's always something new to be discovered. As a graduate, we know you've great powers of research. Show them off and use this last opportunity to wow us.
Don't leave it until the last minute. You'll need to bring along proof that you're eligible to work in the UK and a proof of address like a utility bill or bank statement. Make sure you have these ready, along with any travel tickets or other bits you need, in plenty of time. Save yourself that last minute panic!
Use what you know. We don't want to trick you or give you any nasty surprises. We'll give you as much information about what to expect as possible. If you need to prepare anything, we'll let you know. So make sure that you have a good read through anything, and everything, that we send you.
Don't panic. We've said it before and we'll say it again, try not to worry. We want to see the brilliant you that we've seen before, not a flustered, panicky version of you. Get a good night's sleep, have a good breakfast and bring your best self to the assessment centre.
Shine
It is not a competition. Contrary to popular belief, we're only interested in how you demonstrate your skills. Not how these compare to other candidates'. You don't have to shout the loudest to be recognised. Good team working is really important to us, so engage with the other graduates you meet, collaborate and remember that you're all in the same boat.
Ask if you're unsure. It's a big day and there's bound to be a lot to take in. Really listen to any instructions and make sure you fully understand any tasks before you get going. If you're not sure on something then ask us. There's no harm in it whatsoever, we promise.
Stay on the ball. Assessments days tend to be longer than interviews. It's a chance for us to really get to know you. We'll give you lunch, tell you all about the programme and get you chatting to current graduates on the schemes. Try not to just focus on impressing us in any one task, but everyone that you meet throughout the whole day.
Be yourself. We're not looking for Einsteins or great actors, nor are we looking for a group of graduates who all have the same sets of skills. We love creativity and those individual traits that bring something special to the programme. Be positive, be engaging but most importantly, be yourself.
Feel free to grill us. It's as important that you're right for us as it is that we're right for you. You'll get to meet lots of different people at the assessment centre, so it's a perfect opportunity to chat to us and double check that it's right programme for you. Remember, the next time you speak to us, we could be offering you a job!
Good luck!