AXA story
An AXA guide to performing well in an interview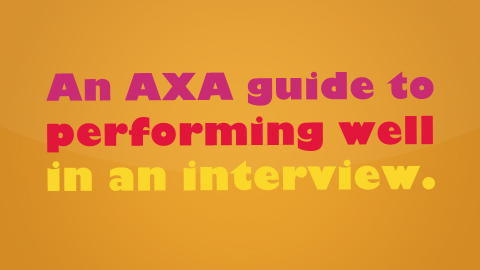 They liked your application and they want you to meet you. It's great news, you're one step closer to securing the graduate job of your dreams. So, why do you feel so nervous? The interview fear's kicked in - that sinking feeling, the panic that you're going to mess it all up and say the wrong thing. But believe it or not, being nervous isn't a bad thing. It shows you care about what's to come. It shows you want to get it right. It shows you want to get the job.
Here at AXA, like all other employers, we appreciate that everyone gets nervous before interviews. It's not our aim to make you feel uncomfortable or panic-stricken. The sheer fact that you've been invited to an interview means one thing and one thing only, we like you. We liked your application and we think you've got the right skills for the job. Now, all we want you to do is to live up to what you've said on paper and show us how brilliant an addition you'll be to our team. Here are our top tips to help you prepare to shine in interviews.
Prepare
Research outside the box. Lack of knowledge about an organisation screams lack of interest, so do your research. Find out something that'll impress the interviewer not just a few generic stats from a quick Google search. Has the organisation or its industry been in the news recently? How does it compare to its competitors? Check out its careers site and social networks too.
Acknowledge your application. It's your application that got you the interview so go over it and refresh your memory. Your interviewer is likely to ask some questions based on your application. Are there any areas that could make tricky questions? Think about how you'd tackle these and prepare answers.
Make the matches. The key to your success is not only being able to answer the interviewer's questions, but being able to make your response relevant to the role you are applying for. Research the knowledge, competencies and behaviours that the role requires when preparing your answers. It's important that you can back them up with specific examples from your previous experience. While bar work or academic experience may not seem immediately relevant, you should focus on matching the skills that you've learnt to the competencies the role requires. Like problem solving and teamwork.
The early bird catches the worm. Preparation shouldn't start the night before an interview. Allow yourself enough preparation time that you don't need to stress. Get a good night's sleep and get your smart outfit ready, have a good breakfast in the morning and set off with plenty of time to spare. Aim to arrive around ten minutes early.
Think positive. Cliché, but very true. Positivity and enthusiasm are hugely important to your interview success. If you don't believe in yourself, it's unlikely that anyone else is going to believe in you. Remember, the employers liked your application so they want you to succeed just as much as you do.
Shine
First impressions set the tone for the rest of the interview. Research has shown that interviewers often form their initial judgements in the first few minutes then spend the rest of the time confirming or denying them. Start as you mean to go on with a warm greeting, a firm handshake and a friendly smile.
It's more than what you say, it's how you say it. Never underestimate the importance of good body language in an interview. Slouching, crossing your arms or not making eye contact sends a clear message to the interviewer, it tells them you're not interested. Think SEP: Smile, Eye contact and Posture!
Take your time. You should get straight to the point with your answers. Avoid waffling but remember to think before you speak. Take a moment to think about the question and gather your answer. The interviewer won't mind and it's better to pause briefly than to blurt out something you later regret.
It's a two way street. Contrary to popular belief, interviews aren't just a platform for organisations to grill you. It's just as important that you use the opportunity to assess the company's suitability for your career. So, always take the chance to ask questions at the end of the interview.
Be the best that you can be. Of course, employers want to see you're prepared, well-researched and interested. But we don't want robotic, generic answers. Add your personality. We want to see who you are and what you could bring to the team. Be enthusiastic, be passionate, be creative but most importantly, be genuine and be yourself.