AXA story
An AXA guide to making yourself more attractive to employers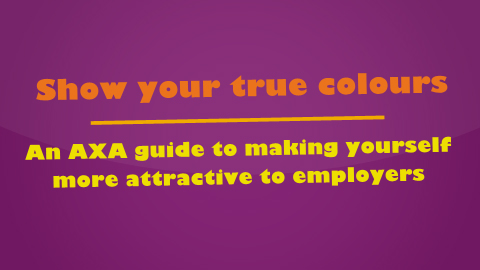 Before you do anything, think. Think about what the employer is looking for. Think about the skills and qualities they need, the skills and qualities their business demands. A recent employability survey of members of the Institute of Directors identified the top ten skills and qualities that were rated as being the most important for recent graduates to possess:
Honesty and integrity
Basic literacy skills
Basic oral communication skills
Reliability and commitment
Being hardworking and having a good work ethic
Numeracy skills
A positive, 'can do' attitude, enthusiasm and motivation
Punctuality
The ability to meet deadlines
Team working and co-operation skills.
For 64% of directors these employability skills were more important than the specific occupational, technical knowledge and skills associated with a graduate's degree. While that might come as a surprise, it won't shock you to hear that graduate employers love ambitious, motivated, driven graduates. They look for graduates with relevant skills and, vitally, the ability to 'fit in' to their working culture. To help you show yourself in the best possible light, and to help you get that graduate job, we've put together a few handy hits or, as we prefer to call them, The Big Three.
Skill up
Think about you. Not in a selfish 'me, me, me' way, but in a more impartial and objective 'what skills do I need to gain?' way. Look at your weakness as well as your strengths. And where you find a weakness, think about what you need to do to turn it into a strength. It's worth looking online or in the papers at job ads for the type of roles you're interested in. Go through the skills and qualifications they're asking for with a fine-toothed comb, especially ones deemed 'essential'. While there's no quick fix to improving your skills, you'll find plenty of online tools to help you, whether you need to beef up your business know-how, brush up your language skills or master the art of spreadsheets.
Think about your personal brand
It won't come as a big surprise that some employers use the Internet to research applicants. Whilst this is not something that we would advocate at AXA, we do think that you should be conscious of the information that is available about you on Google, Facebook, Twitter and other social media networks. We're not advising that you change the way you use social media – but just be aware of your social brand. Amend your security settings so that only 'friends' see your most personal information. Generally polish your online reputation until it shines. It will pay dividends in the long run.
Then make the Internet work for you. Make use of networks like LinkedIn. Build up your profile, make contact with others in your area and make sure you've got your all your experience and qualifications on there. You could even, if you've the technical wherewithal, set up your own website. Your digital shop window to the world. Now that's impressive.
Experience is everything
There's no getting away from it: nothing beats experience. Especially if you've set your sights on a career in a desirable or competitive industry or field. So if you can, get some work experience under your belt. Work experience shows desire, hunger, commitment. It shows that you care, that you're committed, and that you're prepared to grab the bull by the proverbial horns. And when we talk about work experience, it can be paid or voluntary. For employers, one's just as valid and valued as the other. Work experience is a great way in to a company too. You can build up contacts as well as knowledge. So, our final piece of advice: get as much work experience as you possibly can.