AXA story
An AXA guide to getting the most out of careers fairs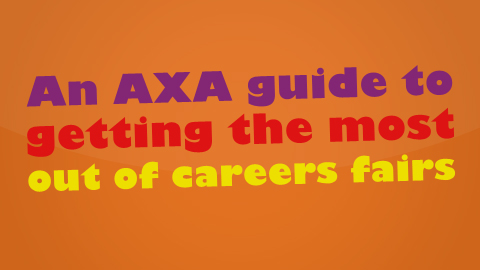 Free pens, free lollies and if you're lucky, you might get a USB stick thrown in. But contrary to popular belief, careers fairs aren't just places to fill your pockets. Landing your dream job after university isn't easy. But it is possible. When it comes to making good first impressions, a careers fair is a brilliant place to start. If you'd like to leave yours with a whole lot more than a bag stuffed with biros and mobile phone holders, then our ten essential tips will help you to walk out feeling successful and career savvy.
Know your stuff
Research is an invaluable part of the recruitment process, one which cannot be overlooked. If you want employers to be interested in you, you need to show that you're interested in them. Make sure that you're clued up on the companies that are attending the fair and the graduate roles that they offer. This way, you'll get a good idea of those that best match what you're looking for.
And if you want to really impress, dig a bit deeper. Instead of just opting for the first bit of information that Google throws up, delve into the company's history and values. Or have a look and see if they've recently won any exciting awards or new contracts – so you can really dazzle them with your knowledge.
Present yourself well
Just like an interview, a careers fair is a great opportunity to wow your potential employers. So try to dress accordingly. If you're at university during the day, it's all too easy to forget and find yourself rushing in after a lecture, bedraggled and half asleep. But a little bit of extra effort can go a long way. Smarter attire in a sea of jeans and jumpers is bound to make you stand out from the crowd.
"The early bird catches the worm"
No one likes a queue. So try to arrive ten to fifteen minutes before the specified time. You'll beat the rush and bag yourself some extra one-on-one time with your favourite employers. They're bound to be impressed with the effort you've made to turn up early, and that could win you some brownie points.
Consider your goals
What are you looking to get from your careers fair? While your chances of walking out with a six-figure job offer are slim, you'd be silly to overlook the value of grabbing yourself a head start with employers. If you want to make the most of your time, set yourself small and achievable goals like walking away with contact details for your preferred employers and the answers to your most important questions.
Prepare your questions
If you don't ask, you'll never know. Useful questions can do more than just cover gaps in your knowledge. They show employers that you're enthusiastic, inquisitive and genuinely interested. Having said this, pestering employers about salary and bonuses won't do you any favours. Instead focus on questions that will really help you see the bigger picture. Things like:
What kind of experience/background would your ideal candidate have?
Is there anything that really makes an application stand out to you?
How would you describe your company's work culture?
What training and development is on offer for graduates?
Pitch your personality
What makes you stand out from the other hundred people at the event? At AXA, we don't just look for grads with outstanding academics. We're interested in sparkling personalities and graduates who are buzzing with ideas and oozing creativity. So don't be afraid to tell employers what makes you stand out from the crowd and why you think you're the perfect one for the job.
Be flexible
Understandably, a lot of students have a beautifully painted picture of what they want their post-university career to look like. That isn't a bad thing, but try not to rule everything else out. Look at a careers fair like a shopping trip; you might not find exactly what you're looking for, but have a good browse and keep your options open. If you're unsure about a company, there's no harm in going over and finding out more. You might just surprise yourself. Of course you'll want to let employers know what you're interested in, but also show that you're open-minded and willing to adapt.
Keep notes
Now it might sound obvious but don't forget to take a pen, a notepad and a folder with you. There's nothing worse than leaving a stand with a positive feeling and then getting home to find that you've completely forgotten what was said or who you spoke to. Also, although they might not be quite as tasty as the sweets, company brochures often provide a wealth of information on their programmes and application processes, so they're well worth hanging on to.
Keen but not too keen
Being keen is good, being overbearing isn't. Employers are busy bees so try and limit yourself to about five to ten minutes at each stand. This should give you sufficient time to make a great first impression, tick off your goals and get the information that you're looking for.
Follow up
Take relevant contact information away with you so you can send out thank you emails to the employers you spoke to. This'll help to ensure that your name sticks in their mind and with a bit of luck, they'll keep an eye out for your application. Include your CV and cover letter and mention any conversations that you had with them to jog their memory. Remember though; it's a massively busy time for employer, so always avoid hounding them with 'pick me' emails!
All in all, be yourself, be confident and remember that you'll never get a second chance to make a good first impression. Best of luck!