AXA story
An AXA apprenticeship can take you anywhere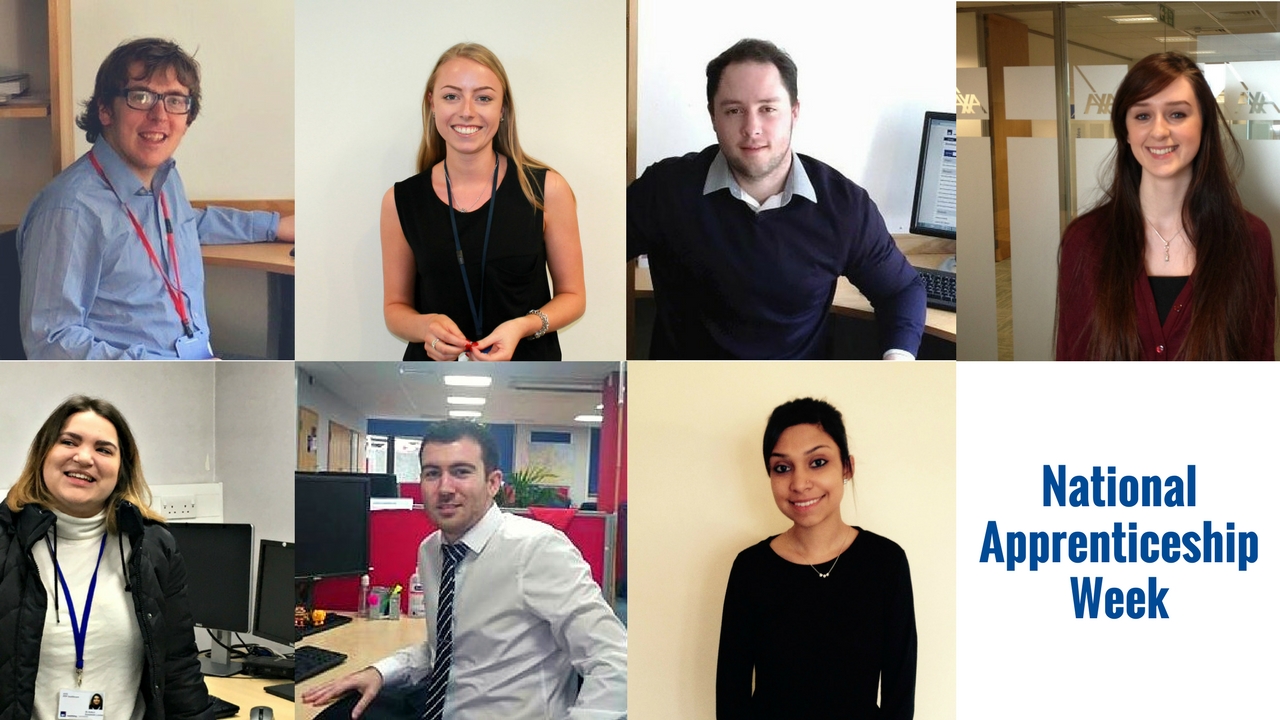 To celebrate National Apprenticeship Week, we want to give you some real insight into life as an apprentice at AXA. Our apprenticeship scheme offers a real alternative for school and college leavers, or those looking for a change of career, who are bright and ambitious and have the passion to work towards a rewarding career in financial services. Time to find out more from eight of our past and present apprentices…
Satveer Kaur-Singh, a Business Analyst, explains why the apprenticeship appealed to her: "I left college with my A levels and was unsure about what I wanted to do or where to go next. I liked the fact that AXA allowed me to apply my college skills and knowledge and gain qualifications whilst earning a salary at the same time. An apprenticeship gives you a first step into an organisation, opening up opportunities and further understanding of future potential careers and the wider work environment."
Variety and diversity
IT Apprentice, James Robinson, agrees. "An apprenticeship was a great opportunity to get myself on to a well-defined career path. I left university after my geography degree and was looking for the right job to get into. Everyone thinks apprenticeships are for people leaving school at 16, but I was 23 when I joined the scheme and I believe it's a great opportunity for anyone to work and learn at the same time."
Edward Sawer, a fellow IT Apprentice says what he enjoys most about his work is that every day is unique. "I love the fact that I learn something new every day. There are so many initiatives going on in AXA, which I've really enjoyed getting involved with and it helps further my knowledge, meet new people and build on the skills I've learnt so far." Likewise, Olivia Beech, who's five months into her apprenticeship, appreciates the variety: "I never run out of things to do or learn," she says.
"The culture at AXA is very much geared towards sharing knowledge and helping each other out. There's a big emphasis on teamwork here and everybody is really friendly. Coming in to a new job can be very daunting at first, but the team here quickly made me feel at home and settled in my role." Suzy St Aubyn, just three days in to her Customer Service Apprenticeship, couldn't agree more. "None of us knew each other before we arrived, which was reassuring because we were all in the same position. And after the first day the awkward silences had disappeared and I felt comfortable around everyone."
Support every step of the way
And a great team is backed up by a professional support network. Katie Lambert, now a Solutions Analyst following her apprenticeship, explains that she's had the all the support she needs when and where she needs it: "I'm encouraged by my manager, mentor and my colleagues. I've found that everyone I work with is willing to help me whether that's with a new project, day-to-day work, career progression or anything else on my mind. It's extremely reassuring to know that no matter what the question, there's someone to talk to and help."
Gary Clark, who's worked his way up from Apprentice Personal Advisor to Team Manager and been with AXA since 2011 shares his advice for anyone thinking about an apprenticeship. "Make the most of the opportunity – an apprenticeship is a chance to get your foot in the door and demonstrate the type of person you are. If you put the effort in, there's no reason you can't continue your success in other roles and areas." While Rebecca Gayle enthuses, "Do it! There's nothing to lose, you have the chance to gain new skills whilst getting paid and making new friends in the process. It can open so many doors for you!"
Gary adds: "I certainly wouldn't be where I am now if it wasn't for this opportunity – and I wouldn't change a thing."
Feeling inspired? Find out more about our apprenticeships and apply for opportunities via our dedicated Apprentices page.