AXA story
Alexandra's summer mentoring experience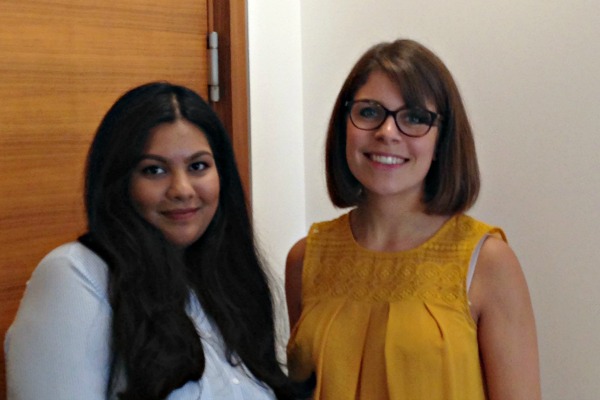 AXA is committed to many youth initiatives aimed at addressing youth unemployment in Europe, which is why we were delighted to hear that our very own Alexandra Nel, a graduate on AXA's Business Leaders programme, was selected to become a mentor for Lloyd's IntoWork this summer. Here she tells us how she got on.
This summer, I was selected to take part in the Lloyd's IntoWork summer mentoring scheme, an initiative designed to develop the professional skills of school leavers, undergraduates and graduates from inner London boroughs by offering them the opportunity to work one-to-one with a young professional starting out in their career.
Having first-hand experience of how daunting the world of graduate scheme applications can be, I knew that this initiative would be really worthwhile to the young mentees and was something I really wanted to get involved in. I was lucky enough to be selected and have been mentoring Fahima, an English Literature student from Queen Mary University, London, throughout the summer. We see each other once a week and have been working through the structured session programme, covering off useful topics such as interview skills, writing a CV and cover letter, time management, communicating in the workplace and networking. I must admit, I was apprehensive when I was selected for the programme about how much knowledge I had to share, but Fahima has been really engaged, keen to learn and doesn't shy away from asking me lots of questions to keep me on my toes.
Needless to say, taking part in this programme has been hugely beneficial to me. I have my own mentor at AXA, but being a mentor myself is a completely different kettle of fish. It has allowed me to develop some basic coaching skills, which I know will be valuable throughout my career and I've even learnt a few things myself along the way – when Fahima has asked me a question which I haven't been able to answer, I've gone to my own mentor to ask for her advice! I think Fahima has found it useful too, judging by what she had to say about it:
"The Lloyd's IntoWork Mentoring scheme has been an extremely beneficial experience. Alex, my mentor, has helped eradicate the anxieties I had about entering the world of work, from helping me prepare my CV, to arranging a mock interview and arranging for me to meet marketing professionals at AXA. It is so helpful to have someone there who has just recently experienced everything you are about to go through, and as a result, I feel more confident about graduating and knowing what comes next!"
Alexandra
Hear more about Alexandra's experiences as an AXA graduate in her previous blog. 
Interested in hearing more about AXA's youth initiatives? Read more on axa.com.