AXA story
Working and learning together to grow the AXA business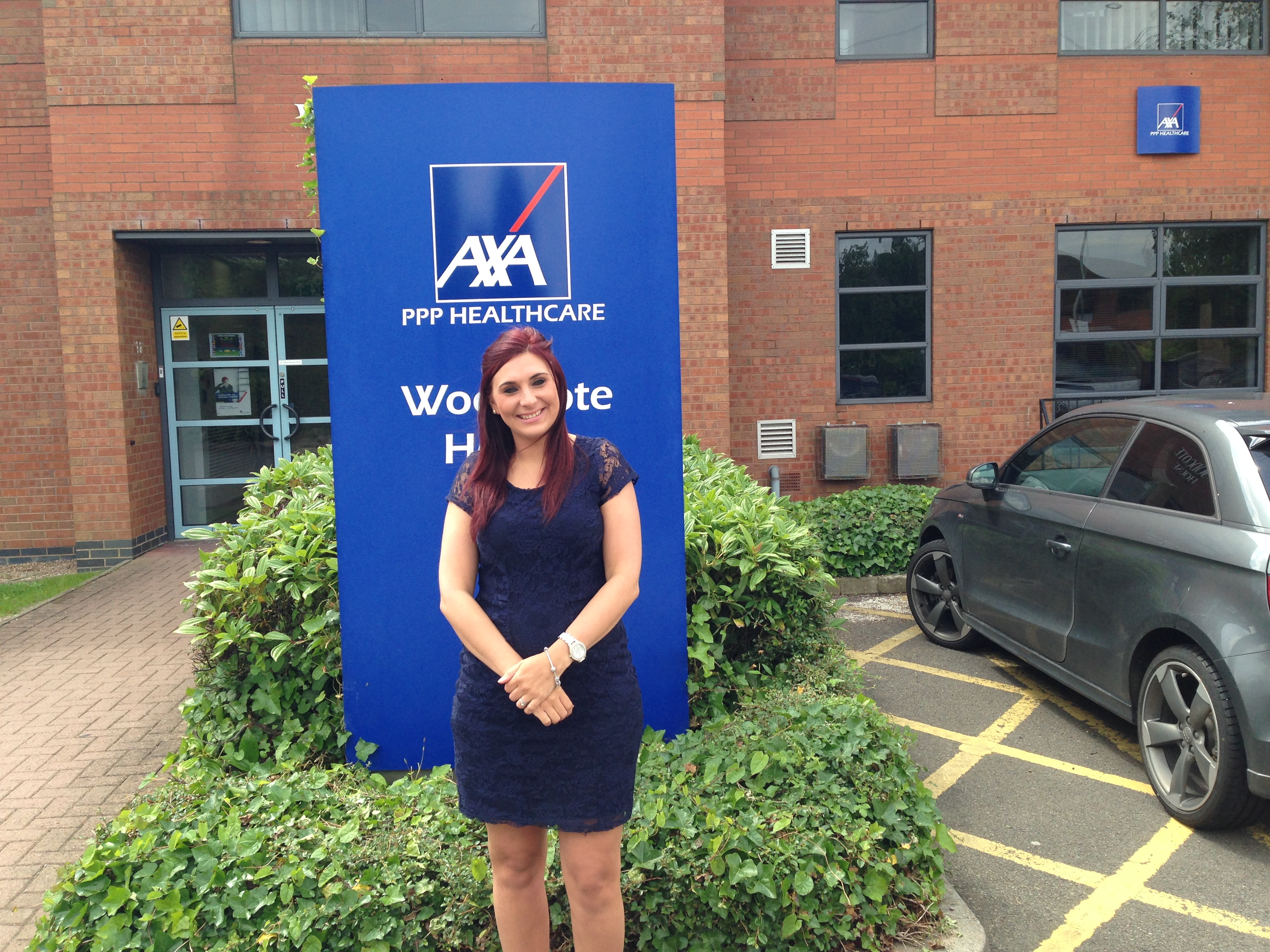 Hi, I'm Kirsty Chapman and I'm Sales Team Manager at AXA Health in our Leicester Sales and Service Centre. I have a team of nine Sales Advisors and my role is to support them in achieving their new business targets. We work with varied panel of intermediaries, with a focus on ones that haven't previously dealt with AXA PPP. Our overall aim is to build new relationships in an effort to grow the AXA business.
Prior to AXA, I worked at Santander in a sales and service role, selling mortgage products to intermediaries and after five years I wanted to progress my career. A previous Director at Santander had moved to AXA and quite a lot of people followed suit and said it was a really good company to work for – and it is! Because Leicester is a satellite office, we're a lot smaller and have much closer relationships with everyone in the team, we're a lot like a big family in that respect, which is lovely. And the development opportunities are brilliant. In the last 12 months I've been promoted from Sales Advisor to Senior Sales Consultant to Team Manager – all within the one team.
The transition from being part of the team to managing it was a challenging one, but I've had lots of support from Brian Gifillan, Head of Small Medium Enterprise (SME) Service, and all the other team managers on the floor. There was a lot to learn but I could always sit down with Brian and run my thoughts past him, getting helpful advice and encouragement before proceeding.
Just like it is everywhere else, sales is a very pressurised environment – managing both inbound and outbound calls, as well as keeping up with email traffic and maximising all new business opportunities. The key to success is organisation and making sure you're prepared. The right attitude helps hugely because it can be stressful on the sales floor if you're not hitting targets. But it's my job to keep people motivated and win new business, so I lead by example when it comes to being organised and proactive.
My team don't have to just rely on me; there are lots of opportunities around the office for support and development if you want it. There are a variety of positions here, including field-based roles, so if there's something specific you want to do, there are lots of ways to do it. Personally, when I was working my way up to my current position, I found everyone was very open to conversations and because of the small team you quickly build relationships and work together. You can see people developing and broadening their knowledge and skill set.
It's great to work so closely and learn with one another and, combined with the freedom that we have to make decisions and challenge processes, we can quickly make improvements to things we don't think are working. I like to involve my team and get their ideas on what they think will work because it's all down to them - they're the ones doing the selling and they're our real unique selling point!