AXA story
Three reasons why customer service is a great place to work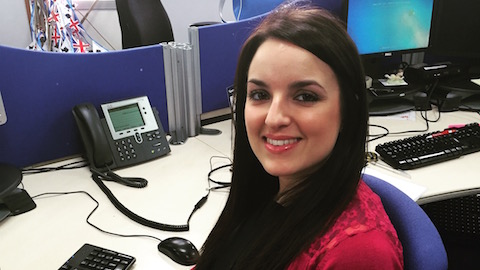 Senior Personal Advisor, Louise, reveals why customer service at AXA Health offers a rewarding career opportunity.
I joined AXA after I'd finished my A-levels at 18. Joining the CSU team was a fantastic first step for my career and after a couple of years I applied for a six month secondment to AXA's Membership team. The role saw me work with individual members on the phone and at the end of the six months I was asked to stay in the team, and I was really happy to do so. A few years later and I was promoted to Senior Personal Advisor. Here are my top three reasons why working in customer service at AXA is a great career move.
1. Business knowledge
Before I started working within the Membership team for AXA Health, I didn't really understand that much about the business, other than my own individual role in my specific department. Now I understand so much about the business and what it does, I have also had the opportunity to work with different people across the organisation, making my role much more interesting and purposeful.
2. Varied and interesting work
It sounds cheesy, but no day is the same here. I get to work with a variety of our members every day and all their queries are individual. Plus the nature of my role means I get to work with teams across the business, which I really enjoy.
3. Great people and a great team
I love the people here. Everyone is here to do a job and do it well and we're all working towards the same goal. As well as that, every single person is friendly and will do anything to help each other out. We have some great social get togethers, including informal events, which will see us have a drink in the pub or go bowling, as well as formal events, like the AXA Christmas and Summer parties. Plus we have a relaxation room in our Tunbridge Wells office, which is great for keeping an eye on my weight and BMI – and a little bit of relaxing too, of course!
Interested in finding out more? Have a look at our current career opportunities.