AXA story
Supporting patients in need – life as a Dedicated Heart Nurse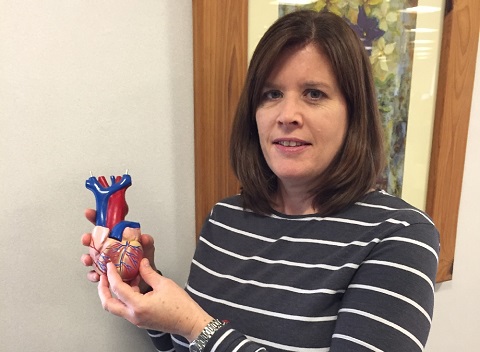 After 16 years in clinical practise, including cardiology, in her local hospital, Dominique Burrell was looking for a change of career. She was inspired to join our Heart Care team as a Nurse Case Manager and Dedicated Heart Nurse after talking with our AXA resourcing team. In her new role she gives vital support and advice to people with heart conditions and believes listening, engaging and supporting her patients is the most important aspect of the job.
We caught up with her to find out more about her rewarding career and the amazing work she does to help people in need.
All about the support
"We offer support, rather than medical advice," says Dominique. "So, I may take a call from someone with chest pain and call an ambulance for them, or speak to people who have had a recent, sudden heart attack and who want to discuss what has happened and what it all means. I also speak to people before and after heart operations, including parents whose children need treatment."
Going the extra mile to support her patients
"There have been some memorable moments where I feel I've made a real difference to people. A lady called just as we were about to close, but I stayed to talk to her for around 45 minutes, talking her through everything and offering advice and support. The lady felt very reassured and much clearer on the process going forward. She called a few days later with a couple more questions and wanted to speak with me specifically and I was so happy to be able to help her."
"I also had the opportunity to support an elderly gentleman who lived by himself and had no family. I helped him arrange respite care – which is not done through AXA – and gave him the reassurance he needed."
Protect and care
Dominique loves having the opportunity to help others using her cardiology knowledge and feels like she makes a real difference to people going through a difficult period of their lives.
If you're interested in finding out how you could use your clinical knowledge in a very different way, take a look at our Clinical and Medical jobs.