AXA story
My guide dog and me - part of the AXA family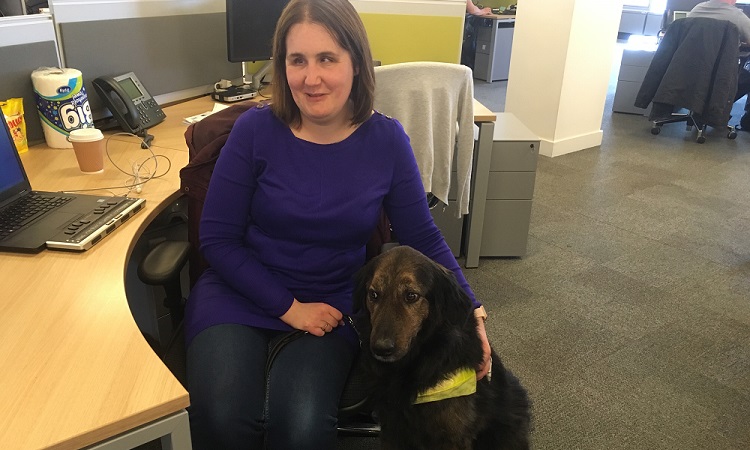 Being an inclusive place to work offers everyone the chance to reach their true potential. That's why we shape our working environment to be inclusive of everyone, including Ami, a Compliance Analyst for AXA Insurance, and her guide dog, Keiran.
Ami joined AXA Insurance in December 2017 with her German Shepherd/Golden Retriever cross, Keiran. "I was born blind with the eye condition Leber Congenital Amaurosis. It's an inherited retinal condition, where the specialised light-sensing photoreceptors at the back of my eyes don't work properly. I can see light and dark, shadows and have some colour perception if an object is pretty much touching my eye. I can't see enough to read print, so learnt Braille instead."
The 'paw-fect' partnership
Before Ami had a guide dog, she was a long cane user. "My cane knocked into things and people all the time, which I found tiring, embarrassing and irritating. I find the way Keiran navigates me around obstacles much less stressful and also a lot quicker. Having him by my side just gives me a confidence in movement and independence."
Welcoming our two new recruits
When Ami and Keiran started working at AXA, an email was sent to everyone in the building to let them know a dog would be working in the office, and asking for him not to be distracted when he was working in harness. "Keiran settled in very quickly, and from day one I made it clear to colleagues that they are welcome to come and say hello to him if they wanted to. Personally, I want my dog to be happy while I'm at work and as he enjoys cuddles, I'm more than happy for people to build their own relationships with him. He certainly makes people smile, particularly when he adopts his yoga pose on his back."
A truly inclusive environment
Tony Worthington, Ami's Workplace Manager, tried to put himself in Ami's shoes and considered all the things he could do to make life easier for her. As well as a space for Keiran, regular meetings and evacuation route walks, Ami was provided with JAWS, a screen reader software for her laptop, which is an electronic voice that reads what's on the screen so she can use the AXA systems. "I also have a Braille display so that I can read documents and can make and read notes in meetings. AXA even got a drinks machine with Braille numbers on it so I can choose my drinks, which is pretty awesome, and shows just how inclusive AXA has been."
Ami has some advice for guide dog owners who are currently in the search for a job: "I know it can be tough – I had some pretty depressing experiences while job hunting as a visually impaired person – but don't give up. Remember what it is you have to offer, your dog and disability are not a barrier to employment, and that there are inclusive employers, like AXA, out there."
If you want to work with a company that enables people of all abilities to succeed at work, view our vacancies here.