AXA story
Kick starting your career in insurance with an Apprenticeship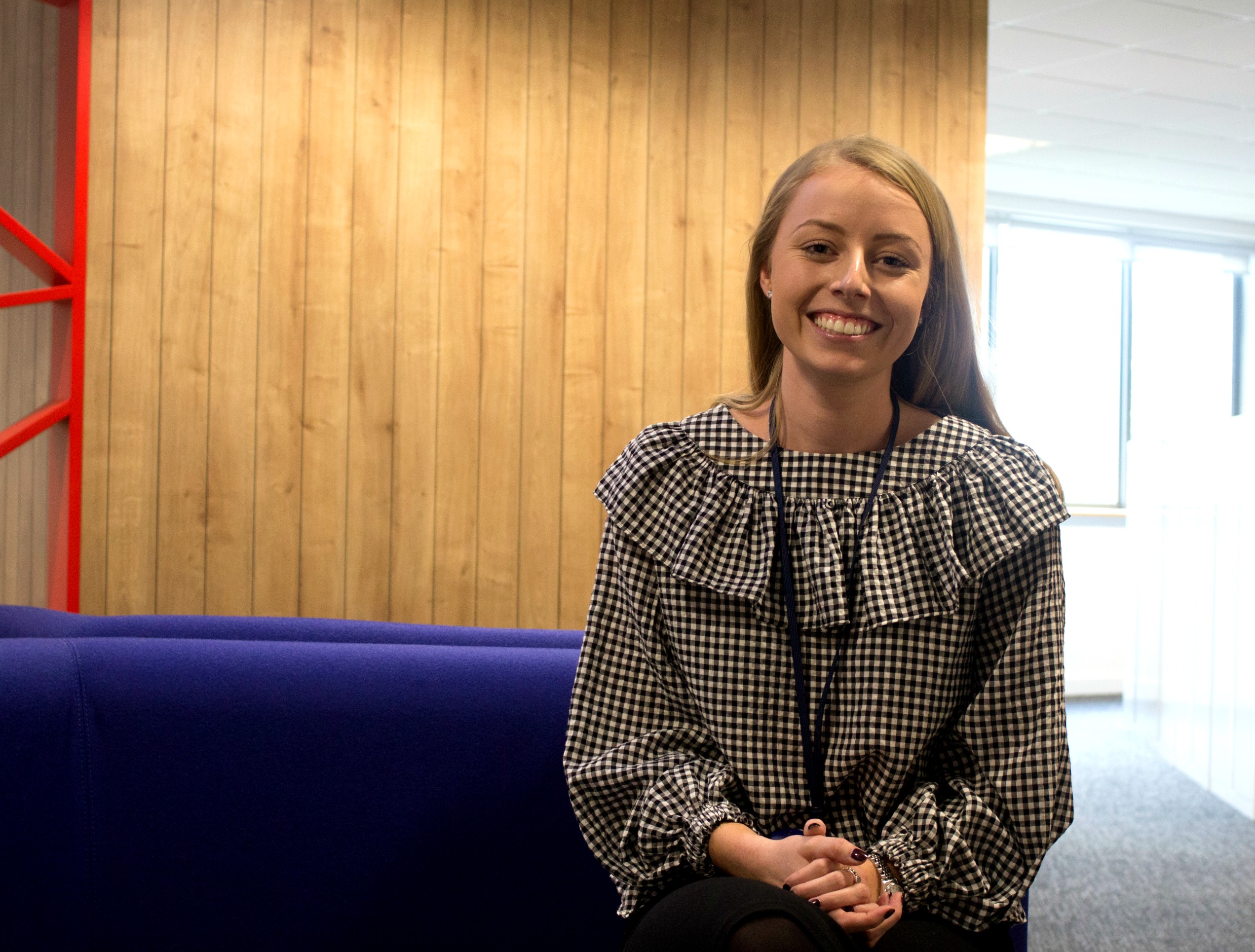 At AXA, we believe that there is no better place to start your insurance career than with one of our Apprenticeship development programmes. As well as the opportunity to set your career on a well-defined path, you'll be able to learn invaluable skills while you earn. We caught up with one of our first ever apprentices, Katie, to find out why the Apprenticeship Development Programme was the right choice for her.
University or an Apprenticeship? Making my decision
I've worked since I was 14, but I always found myself wanting more from where I worked. My school was really keen for me to go to university, and although I understand and appreciate the benefits of gaining a degree I was always more interested in the apprenticeship route. The opportunity to gain qualifications alongside real work experience really appealed to me but I encountered a lot of misconceptions. People assume apprenticeships are more of a vocational path but in reality, the right programme should offer personal development alongside a well-defined career. At 18, it's very difficult to decide on what you want to do but I knew that becoming involved with such a diverse organisation would allow me to get a feel for what kind of work I enjoyed.
My Apprenticeship journey
I joined the programme as soon as I left college. A role became available 2 years after I started, so I finished my apprenticeship early and I've been a Business Analyst in IT for 16 months now. I was looking forward to being part of an organisation that enabled me to interact with people from different areas of the business. I'm a naturally sociable person, so I love being able to engage with people from across the country. I even get to work with people from AXA abroad! It's all real work too – I take responsibility for my own tasks and contribute to complex and interesting projects. With that said, I am currently working on a project that will make sure our contact centres have the technology they need to run as efficiently as possible. Working with people from different areas of the business has helped me understand how different functions within our company operate and how they contribute to AXA's success.
Supported to succeed
The professional relationships I have been able to build with AXA staff and external suppliers are so important. Thanks to the people around me investing time and effort into my development, I now have the confidence to overcome new challenges and apply what I have learnt to future projects. Due to my willingness to learn and ask questions, I'm now a valued member of the team. AXA have high expectations of their apprentices but if you work hard you can use your skills as I have to quickly become a valuable resource to the business. Without the programme, I don't think I would have been able to gain real life experience in a fast paced commercial environment as quickly as I have – the huge support network within AXA has a large part to play in my success.
Are you considering an Apprenticeship?
If you're looking for a new challenge with huge opportunities for your career development, then you should really consider joining AXA's apprenticeship development programme. At 22, I already have 3 years professional experience while some of my friends have recently graduated and are struggling to start their careers. Thanks to the programme my career can take me anywhere – so if you're interested in kick-starting your career with an apprenticeship like I have, take a look at our Apprenticeship page where you can find out more about which programmes are available in your area.