AXA story
It was down to business at AXA Wealth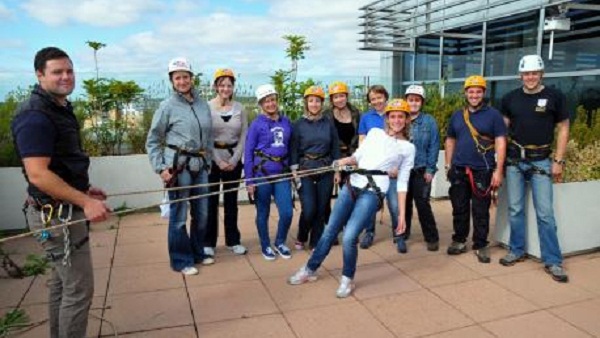 AXA Wealth employees with a head for heights raised more than £8,000 for charity by taking part in a 100ft abseil challenge.
The event took place at the AXA Wealth head office, in Winterthur Way, where 45 people abseiled down seven floors, raising £6,500 for St Michael's Hospice and £1,575, for a charity called Young Bristol.
In total, 30 AXA Wealth employees took the plunge. They were joined by 15 people from other local companies, including Barclays, Virgin Media and Lilly as well as St Michael's Hospice.
Young Bristol, a youth-driven charity that offers a selection of opportunities and experiences for young people in Bristol, where AXA Wealth also has offices, provided all of the abseiling equipment, safety briefings and helped run the event. Among the plucky abseilers from AXA Wealth was senior cash administrator Cailin Kendall, who understandably was very nervous at first.
Breathless after her descent, Cailin said: "I was terrified, but I thoroughly enjoyed it. I remember holding on for dear life when I went over the edge, but leaning back into the harness I felt fine."
On the day, Cailin raised £240 for her efforts. "I'm really chuffed now that I've done it – I'm on such a high. It's really good that the company has given us this opportunity to do something like this for charity– especially in work time."
Nick Elphick, managing director, specialist products, at AXA Wealth, said: "I have a real phobia of heights, but after hearing that 19 employees from my team were taking part, I thought I should pluck up the courage and join them.
"It was great to see everyone supporting each other on the day as well as our local guest abseilers joining in. At AXA Wealth, we provide a whole host of fundraising opportunities for our employees, with the abseiling being our most adventurous yet."
Partially-sighted Hannah Boot, from pharmaceutical giant Lilly, took part in the challenge, in memory of her late father who was cared for by the team at St Michael's Hospice.
Richard Garfield, www.basingstokegazette.co.uk
Reproduced by kind permission of the Basingstoke Gazette