AXA story
Innovation at AXA – A glimpse into the Dragon's Den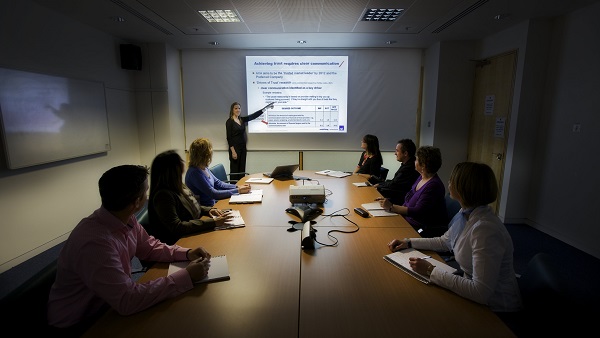 As technology continues to evolve at a rapid pace, we at AXA need to adapt our products and services to meet the ever-changing needs of customers. Launched in 2013, AXA Labs connects us with leading companies in the technology industry and identifies emerging new trends that can help us to stay one step ahead of our competitors.
Find out what Abi Pike, our Resourcing Brand & Attraction Consultant, thought of her insight into this fascinating and rather elusive side of AXA.
Before working at AXA I had no idea about the world of investments and what AXA offers to new businesses. So I was delighted to be offered a glimpse into the real, Dragon's Den-like nature of the start-up/venture investment world, by sitting in on an investment pitch meeting with Parul Green, AXA's Head of Mergers, Acquisitions and Innovation.
Walking into a large conference room felt quite daunting, until we were greeted by the friendly owner of a London based start-up, who would be pitching us her business idea. During the pitch she seemed confident and had a great way of explaining and visualising her ideas for us. But Parul wanted to make sure the owner fully understood her business, so once the pitch had finished she asked a range of hard-hitting questions - "Who is your market?", "What customer pain-points or unmet needs are you trying to resolve?", "Who are your competitors?".
This really didn't seem to unnerve the owner, who impressively answered the questions before asking a few of her own – "What are the tick points for investment with you?" "What are the criteria?" "What is your strategic vision?". The concept of her business was innovative and clever, but unfortunately it was still at the early stage of start-up investment and so didn't meet AXA's eligible criteria. But as I discovered that's not to say there isn't still some hope, as AXA may consider investing once the business has passed this stage.
Innovation at AXA
As well as going along to the pitch I've learned that investment isn't the only way AXA supports new businesses. With a dedicated workforce of employees, AXA runs accelerator programmes with partners including Barclays to support, coach and assist new start-ups in scaling their business. And AXA Labs, based in Paris, San Francisco, Beijing and Zurich, then offers start-ups the chance to share knowledge and learn all about data innovation.
There are so many avenues to go down in a career with AXA and for me, seeing this side of AXA has been fascinating and made me want to learn even more. It's also really changed the perception I had when starting here and is a great example of how as an organisation, AXA never stands still.
To start your adventure with AXA, visit our careers page now.