AXA story
I'm supported to take my team further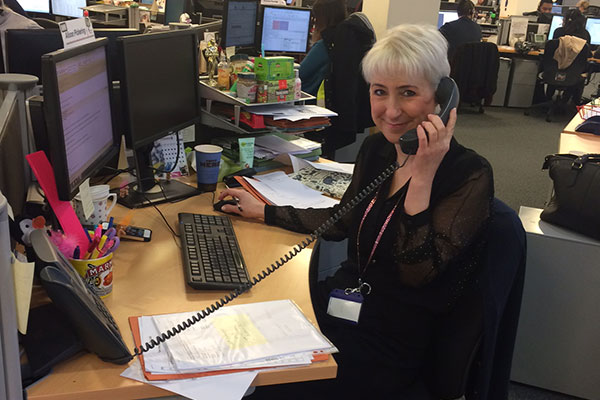 Alison Pickering first joined us as a Claims Handler six years ago, and has been a Motor Claims Team Leader for the last 18 months. She highlights the development opportunities available at AXA, and how improving herself helps to move her team forward.
A Team Leader is a people orientated role, though I do still handle some claims too. But mostly I'm looking after my team's needs and development, whether that's the day-to-day support or building long term plans with them. I'll help them progress through the AXA Claims Academy, our multi-level professional development framework, and I'll recommend promotion opportunities or relevant courses for them too.
I also have regular one to one meetings with each person, where we discuss and reflect on their progress, targets, and overall happiness. It's all part of knowing how we can be better at our jobs to be better at helping our customers.
Paths to progression
To get to where I am now, I attended the 'Manager at AXA' course. I learned skills like how to deliver difficult messages, coach people effectively, and make personal development plans for your team. It really helped build my confidence, because I can apply these new skills to be better at my job.
I feel that my contributions are having a positive effect on how things are currently done, such as when I when I arranged training to improve how we give interviews. And AXA allow you to shape your own path – I may consider going into Customer Management in the future. Here, it's all about actively pushing for your own career development. If you have ideas of what you want to do and how you want to do it, AXA will support you all the way.
A great working environment
AXA takes care of us all, I've never felt that I didn't want to go to work. I was impressed by the culture from the start and I just got a really good feel for the place. I've heard others say that it's the people that make the place here, and I fully agree.
The office has an open door policy where you can approach anyone. It's a fast paced environment with a lot of changes, but everyone works together and helps out. There are team targets as well as your personal ones, which creates a collaborative environment.
A team to be proud of
I genuinely really enjoy helping others to develop in their roles. It's always nice to see my team members get promoted – though I'm sad to lose them from my team, it's great to see their progression. I get a lot of satisfaction knowing I've helped them build on their skills and move forward with the company.
I'm involved with the recruitment process, and I focus on getting the right people on board with the right skills. There's no particular type of person that AXA wants, we just look out for passion about the job, empathy with our customers, and a good work ethic. We can teach the rest of the technical parts to you. So if you're prepared to work hard, you'll get on well here. There are so many ways to progress and make the most of your potential.