AXA story
I'm out and proud at AXA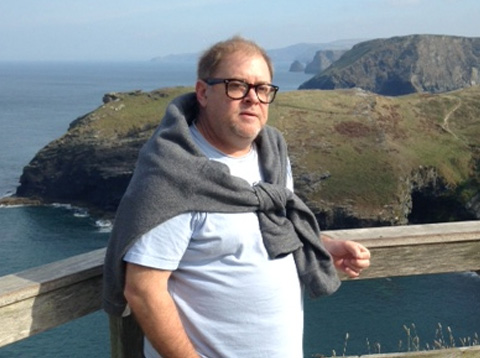 Michael Mann, Resourcing Partner for IT, Finance and Operations, reveals the support and opportunities he's had at AXA – and why he's stayed so long!
I joined AXA in 2001, previously working in the arts at the Royal Opera House in London. Unfortunately, both my mother and sister were diagnosed with cancer while I was in London, so I needed to move to Tonbridge to assist with their care. I applied for a role as a Customer Services Manager and was offered a role at AXA Health . It was a big lifestyle change going from the arts to medical insurance!
Open from the start
Within a couple of months, during one of my team meetings, I was asked by one of my team if I was gay. Immediately, I proudly told them I was. And that was it really; it was out in the open. My team thought nothing of it and in fact found out they had a rather cool manager being a social guy who enjoyed life 100%! I'm very open about my sexuality and who I am – out, proud and happy!
An uncomfortable situation – resolved quickly
I did experience homophobia in the early days – one time I overheard a contact centre employee make a homophobic comment about me and I challenged them. I discussed this with my Line Manger the next day and she was supportive of me and angry that this happened, which lead to a discussion with this person in a private meeting. I was pleased that it was handled so quickly and effectively. Being out at AXA PPP in those days was not so easy, it was quite underground really. It was just how it was, wherever you were.
I know people in the business thought I was brave being so open. I think my attitude and braveness helped other colleagues who may have been questioning their sexuality to feel less isolated about it, even if they themselves didn't feel comfortable coming out.
A professional perspective
I've built my career across the business and into my current position as Resourcing Partner for IT, Finance and Operations and I've never had a problem since that initial time in the early years.
Being gay has nothing to do with how well I do my job: I'm always decisive, clear and professional. When I come into the office I tell people what I've done at the weekend, and I'll talk about my boyfriend and people realise that we all do the same things. I'm never worried about discussing what I get up to.
I have to admit that I never thought I'd stay at AXA for so long. But I ended up meeting someone who worked for a large food and beverage business – his experiences there were very different – I couldn't believe what he told me, it was terrible, sad and a bad diversity culture. I suggested he apply for a job at AXA and he did! He joined customer services and now works in finance as an analyst.
Opening up
It's really important that the business is leading the field in building on its diversity and equality. Things are changing and AXA is looking to support every kind of diversity, from dyslexia, religion, transsexuality and flexibility for working parents to mental health. After all, everyone brings a different perspective and experience with them to the business. Whoever you are, you're supported, there's no discrimination and it's important to AXA that that is the case. AXA cares for its employees and gets involved with the community, too.
We have a LGBT Group on Facebook. It's not only for people who are gay, we have lots of people involved who aren't, who join because they support the principle. People want to get involved, not separated. There are events – AXA sponsors Gay Pride and has represented events in Manchester and London – it's very much a community in the way we share things. We just want people to be who they want to be.
Love who you are
At the end of the day, not everyone wants to share, but I hope it just makes everyone realise that it doesn't matter where you come from, what you sound like, what you look like – a diverse workforce creates new ideas, perspectives and a sense of belonging!