AXA story
Ideas, strategy and connected thinking – Charlie's dyslexia story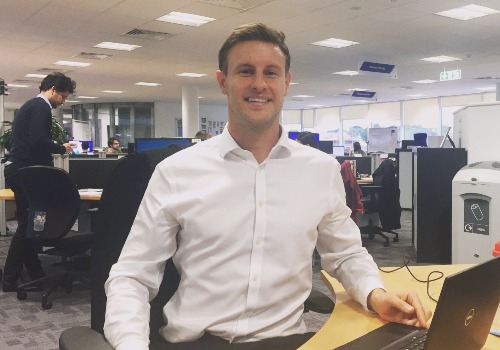 At AXA, we believe diverse teams are more successful than ones where everyone is the same. Here, Charlie Beadle explains how he's been supported with his dyslexia and the importance of looking at your strengths.
I was diagnosed with dyslexia by a psychologist when I was about six years old. My school spotted that whilst I was really good at some tasks, my reading age was low and I struggled to spell words like 'and' and 'to'. Throughout my time at primary and secondary school I had lots of extra time and support, especially when it came to exams. I ended up getting an A in my English Literature GCSE and achieved ABB in my Media, Psychology and PE A levels – I never would have been able to achieve that without the extra support I had. I went on to Exeter University and got a 2.1 in Business Management and later went back to university to do a Masters in Organisational Analysis and HRM at Kings College in London.
Working life
I currently work for AXA as a Talent Sourcing Partner, which means I headhunt great talent for AXA. It suits me as it plays to my strengths of being able to verbally interact with people about AXA. In my previous role and organisation, my role was a lot broader and involved a lot more admin, which is not my strong point. At AXA, I'm able to work from home on some days, which helps me then get through my e-mails and admin in a quiet environment. Open plan offices with lots of phones ringing and people talking can be distracting for someone who is dyslexic. There are also lots of focus rooms in our London office, so I can sit in a quiet zone for tasks that require more concentration.
The ideas man
My manager, Karen, is really supportive. She knows to give me extra time to write things down during our catch-up meetings, and even lets me record conversations so that I can play them back, to make sure I've got all the information I need. And while there are many perceived negatives associated with dyslexia, I always like to focus on the benefits or strengths that I get from it. I'm really good at lateral and connected thinking, for example. And if you're looking for strategy or ideas, I'm your man! In my short time here, my manager has said that I've already come up with lots of useful ideas that she hadn't previously thought of, so I'm looking forward to growing my role in time.
If you're dyslexic and currently looking for a job, my top tip would be, don't hide it. In my first job, I didn't want anyone to know, but actually, not only will people be able to help you, you'll be able to utilise your skills much better.
Interested to learn more about dyslexia at AXA? Sophia shares her experience of disclosing her dyslexia when applying for our graduate programme and offers some top tips for dealing with dyslexia in the workplace in her blog, Dyslexia won't hold you back at AXA.